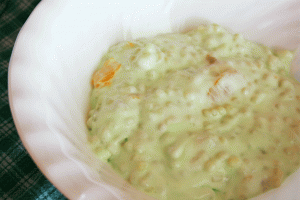 Mormons are famous for having a variety of side dishes and weird salad combos served at their church gatherings. I love this one, named for the appearance of the small acini de pepe noodles and the green pistachio pudding. It is delicious! I seem to be craving it often during this pregnancy.
Frog Eye Salad
1 cup acini de pepe noodles (they look like tiny balls of pasta)
1 small package pistachio pudding mix
1 8 oz. container of Cool Whip
1 can of mandarin oranges
1 cup chopped pineapple
1 cup mini marshmallows (optional)
Cook acini de pepe according to package directions. Drain and rinse with cool water. While noodles are cooking prepare pistachio pudding according to the package directions in a large bowl. Place in the refrigerator to thicken. When noodles are cooked and cooled add them to the pistachio pudding. Add the cool whip and fruit. Mix together well. Keep refrigerated until ready top serve. Leftovers can be saved for up to three days.


© 2007-2009 Chocolate on my Cranium, LLC all rights reserved