After a summer long hiatus I'm ready to jump back in to the I ♥ Faces weekly challenges. This week's theme is 'Nostalgia.' The photo needs to bring back a nostalgic feeling for the photographer.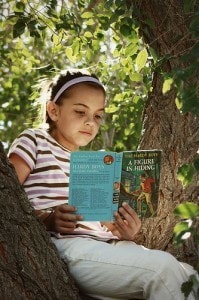 I could do a lot of farm photos as that is very nostalgic but decided instead to do something that reminds me of my childhood. My whole family loved to read. One of our favorite outings as a family was visiting the bookstore. Mom and Dad had to limit the amount of books we could each buy to only two. Two! Do you know how hard it is to narrow down the choices of all the books available to the only two you would walk out the door with? It never seemed to fail when it was time to go (after hours of browsing) we'd find my youngest brother in the Hardy Boy section. Sitting on the floor, he'd have almost every book in the series in stacks next him. Reading the backs, maybe skimming the pages, dividing them into certain piles until he finally narrowed down his choice to which books he wanted to buy. Every time I see a Hardy Boy book this memory comes flooding back. Imagine how excited I was to find an almost complete set of old hardback Hardy Boy books in an antique shop the other day. Now my daughters can delve into the mysteries without worrying that I'll limit how many books they can take!
Visit other nostalgic photos this week at I♥Faces!

© 2007-2009 Chocolate on my Cranium, LLC all rights reserved