Fudge and Cookie decided to have a 'sweet' tea party with their dolls today. On the menu: mini s'mores, mini powdered donuts, and mini chocolate donuts.
These are so simple the little girls made them by themselves.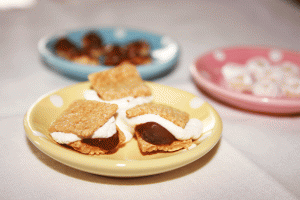 Mini S'mores
10 Golden Grahams Cereal Squares
5 mini marshmallows
5 chocolate chips
Place 5 Golden Graham Squares on a microwave safe plate. Squish a mini marshmallow onto a chocolate chip and place on top of a Golden Graham Square. Microwave for 10-15 seconds. Immediately place a Golden Graham Square on top of each marshmallow.
Mini Donuts
Cheerios
Powdered Sugar
Chocolate Chips
In a small ziploc bag place a spoonful of powdered sugar. Pour in about 1/4 cup of Cheerios. Shake the bag to cover all the Cheerios with powdered sugar.
In a small microwave safe bowl place 1/4 cup of chocolate chips. Microwave for 30 seconds. Stir. Microwave in 10 second increments stirring after each until the chocolate chips are completely melted. Let cool a minute. Carefully dip the tops of Cheerios into the melted chocolate to "frost" the tops.


© 2007-2009 Chocolate on my Cranium, LLC all rights reserved