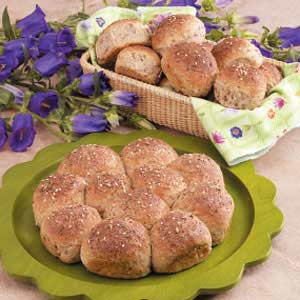 I haven't made these delicious rolls in a while. For some reason I've been thinking about fall, even though it's 100 degrees and muggy outside, and these rolls came to mind. They are very healthy, very filling, and oh-so-yummy. Initially made with three different grains: oatmeal, bulgur, and wheat, many times I substitute cooked seven-grain cereal for the bulgur to add more variety and nutrients.
I still haven't made them this week. The photo above was used in the cookbook my recipe was published in. Can anybody guess what company it was? Here's a couple of clues. 1) It is a well known "country cooking" magazine. 2) They publish a new cookbook every year from all the recipes that have been published in their magazine from the past year. 3) They give "cooking schools" or demonstrations throughout the country.
Multi Grain Pan Rolls
2 cups water
1/2 cup bulgur
1 package (1/4 ounce) active dry yeast
1 cup warm milk (110° to 115°)
1/2 cup quick-cooking oats
1/3 cup honey
2 eggs
2 teaspoons salt
3/4 teaspoon pepper
1-1/2 cups whole wheat flour
2-1/2 to 3-1/2 cups all-purpose flour
2 tablespoons olive oil
2 teaspoons each celery seed, fennel seed and sesame seeds
1 teaspoon poppy seeds
In a saucepan, bring water to a boil. Stir in bulgur. Reduce heat; cover and simmer for 15 minutes or until tender. Drain.
In a large bowl, dissolve yeast in warm milk. Add the oats, honey, eggs, salt, pepper, cooked bulgur and whole wheat flour; beat until smooth. Stir in enough all-purpose flour to form a soft dough.
Turn onto a lightly floured surface; knead until elastic, about 6-8 minutes (mixture will be lumpy). Place in a bowl coated with cooking spray, turning once to coat top. Cover and let rise in a warm place until doubled, about 1-1/4 hours.
Punch dough down. Turn onto a lightly floured surface; divide into 22 pieces. Roll each into a ball.
Brush two 9-in. round baking pans with some of the oil. Arrange 11 balls in each pan; brush tops with remaining oil. Combine the celery seed, fennel seed, sesame seeds and poppy seeds; sprinkle over rolls. Cover and let rise in a warm place until doubled, about 40 minutes.
Bake at 375° for 18-22 minutes or until golden brown. Remove from pans to wire racks. Yield: 22 rolls.

© 2007-2009 Chocolate on my Cranium, LLC all rights reserved