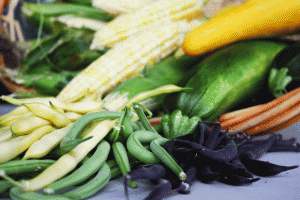 I love this time of year when the garden harvest begins to be plentiful. After all the work of preparing the soil, watering, weeding, weeding, and watering it's a joy to see the fruits of your labors, especially when your children are involved. The delight on their faces when they find a hidden bean under the leaves or the shouts of joy when they see how big the watermelon has grown in just two days swells your heart. We all worked hard together and now we get to enjoy the harvest together.
Today's basketful contained a couple of yellow crookneck squash, two zucchini, 16 ears of corn, wax beans, green beans, and the first of the royal burgundy beans. The RB beans are very fun. As you can see they are a deep dark purple but turn green when cooked. The littles loved watching them boil.
I also saw a harvest of another sort today. I took Special Dark with me to the post office to pick up a package. We walked in to see a very long line. About ten seconds later a gentleman got in line behind us. He had shoulder length brown hair, a red shirt, and brown pants. Special Dark looked at him, looked at me, then looked at the man again. I could tell something was going through his head but wasn't sure what it was. He then asked, very loudly, "Is that Jesus?" Several people in front of us started chuckling.
The man smiled and replied, "No I am definitely not Jesus."
Special Dark looked at me for validation. "No, he's not Jesus. He does look like some of the paintings you've seen of Jesus though, doesn't he?" It was a very cute observation coming from a two year old. And a pleasant surprise to realize that he is understanding and comprehending what we are trying to teach him about Jesus.
Or at least he recognizes His face through the paintings we have. =)


© 2007-2009 Chocolate on my Cranium, LLC all rights reserved