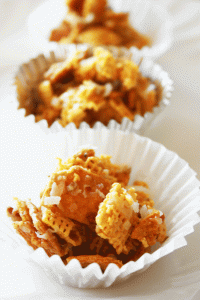 Warning: This mix is very addictive. You canNOT stop with just one handful. It's a great recipe to take to any get-together.
Yummy Cereal Mix
1 box Corn Chex cereal
1 box Golden Graham Cereal
2 cups shredded coconut
2 cups nuts – almonds, pecans, or walnuts
3/4 cup butter
1 cup sugar
1 cup corn syrup
In an extra large bowl stir together the cereals, coconut and nuts. In a medium pan bring the butter, sugar, and corn syrup to a boil. Boil for 2 minutes. Pour the sugar mixture over the cereal mixture and stir until all the cereal is coated. Let cool. Serve.

© 2007-2009 Chocolate on my Cranium, LLC all rights reserved