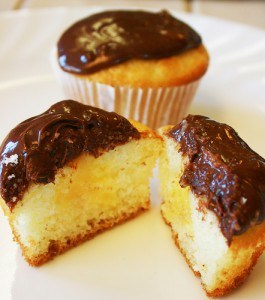 Every once in a while when I feel like being wicked I like to eat eclairs, or twinkies, or cupcakes that have cream filling. These cupcakes don't have the typical fatty sugary filling, instead it is just pudding. These are so easy to make my daughters, Brownie and Fudge, followed the recipe themselves.
Boston Cream Cupcakes
1 pkg. yellow or french vanilla cake mix
1/4 cup instant french vanilla pudding mix
1 cup milk
1 cup prepared chocolate frosting
Mix and bake cupcakes according to the instructions on the cake mix box. While cupcakes are cooking beat together milk and pudding mix. Cover and refrigerate to thicken the pudding. When cupcakes are done baking, cool completely on a wire cooling rack. Spoon pudding into a pastry bag (or ziploc bag) that has been fitted with a straight pastry tip. Poke the pastry tip into the top of each cupcake and squeeze pudding into the middle of each one. Put frosting into a small bowl and microwave on high for 20 – 30 seconds to soften. Spoon frosting over each cupcake hiding the pudding you can see at the top. Makes 24 cupcakes.

© 2007-2009 Chocolate on my Cranium, LLC all rights reserved