All week long we are making decorations to use in our autumn celebration next week. (More on that later) Today's craft was different than one we've ever done before but the results as you can see were beautiful! These can be made into magnets for the refrigerator or strung on a string for garland (which is what we are going to do) or even made into fall mobiles for a bedroom.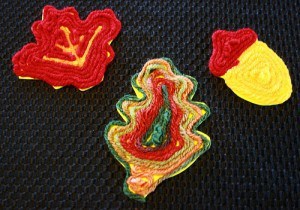 Materials:
*sticky Backed Foam Sheets
*pen or pencil
*leaf, acorn, or other fall cookie cutters
*scissors
*yarn of various colors
*magnets (optional)
*hole punch and extra yarn (optional)
Step 1: On the paper backing of the foam sheets trace the cookie cutters or draw your own outlines of leaves, acorns, squirrels, etc.
Step 2: Cut out the shapes.
Step 3: Cut long pieces of yarn of varying colors. If doing this craft with several children it's easier to make a pile of yarn pieces for each child to use.
Step 4: Peel off the paper backing from one foam piece. Starting on the outside edge press the yarn to the sticky side and go around creating an outline. Fill in the outline however you wish, go around and around, side to side, up and down, or create squiggling lines to follow. Try to get the yarn as close together as possible but don't worry of your smaller children can't. They still look pretty.
Step 5: Depending on how you will use them for decoration either glue a magnet to the back (or use the sticky backed magnet strips) or punch holes in the ends and string them on string for garland or mobiles.

© 2007-2009 Chocolate on my Cranium, LLC all rights reserved