As a child I loved starting school each fall. I was one of the rare few who cried when the school year ended. I loved smelling the new books, sharpening new pencils, looking at the crisp white pages of my notebooks. My kids enjoy doing the same thing. This year our school schedule has been thrown off because of the new baby due in just 5 weeks. We started school in July and will continue through September in order to take October off when the baby arrives.
For this week's I ♥ Faces challenge of back to school I chose this old photo of Cookie taken two years ago when she was almost three. She wasn't old enough to do "official" school with the rest of the girls but loved pretending to do school at the table with us. I just love her chubby cheeks and her tubby little fingers holding the crayon. Boy howdy they grow fast in two years! Now she's reading, officially in kindergarten, zips through math, and enjoys handwriting.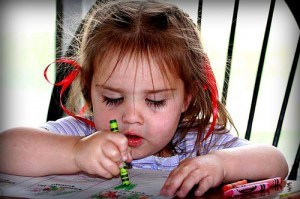 Check out other back to school photos
here
.

© 2007-2009 Chocolate on my Cranium, LLC all rights reserved