We are seeing progress in our redecorating/bedroom rearranging/repainting project. The two downstairs rooms are cleared out and ready for paint. Here are the girls' paint designs, paint colors, and quilt fabric choices.
We started Monday painting the base coat of Truffle's (8) and Cookie's (4) room.
The base coat is the light Musk Melon color. The polka dots at the top will be the other four colors the arrows are pointing to: Turtle Shell, Egg Yolk, Dragon Fly, and Good Cheer. Very vibrant and bright to match their fabric choices below which we purchased from Marie-Madeline Studios. The rest of the girls' fabric came from Fat Quarter Shop.
They want their room to be painted like this one from Pottery Barn Kids.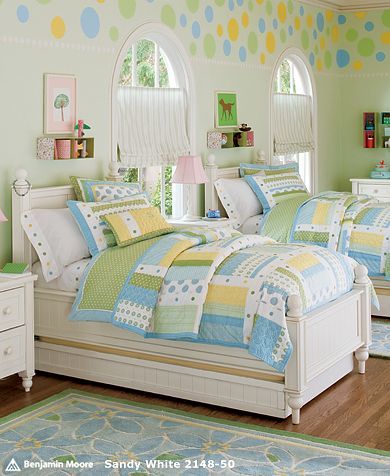 Next we'll move on to Semisweet's (12) and Brownie's (10) room. They choose the Park Lane line from RJR Fabrics.
And decided on a more sophisticated paint design.
The subtle stripes under the deep brown chair rail will be the Fable Green Color. They are created using eggshell paint for one stripe and high gloss paint for the other. Above the chair rail they want a cream tone-on-tone design similar to the fabric in the photo.
All the painting for these two rooms should be done by the end of the week so that Mr. Ferrero Rocher and my BIL can install carpet the beginning of next week. Then we can move all their stuff in, decorate etc. and move everything out of the upstairs room that Bon Bon (13) and Fudge (6) will share. The paint design they choose is much more detailed but, I think, will be very fun to do.
Can you say argyle sweater with brown corduroy pants? =) The diamonds will alternate between Cotton Bloom and Fable Green. The subtle blue dotted lines over the Cotton Bloom will be Stroll blue. The triangles in the pattern will be the Hooting Owl and Dynamic purple colors. Witch Hazel brown will create the stripes under the chair rail just like in the other girls' room. The fabric Bon Bon chose for her quilt is the Eva line while Fudge chose Hushabye.
It has been interesting to see how the original green/blue combos each pairing chose for their rooms as evolved. They all still contain green and blue but each moved in a different direction that are very fitting to their personalities. Hopefully in about two weeks we'll be able to show you pictures of the completed rooms. The quilts won't be done, I'm guessing until right around Christmas, but everything else will be painted and decorated with each set of girls moved in and the nursery set up ready and waiting for the baby and Special Dark to share.

© 2007-2009 Chocolate on my Cranium, LLC all rights reserved