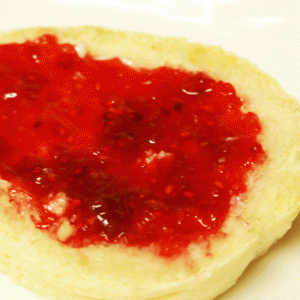 We love both the tart taste of rhubarb and the sweet taste of raspberries. What better way to combine the two than in a jam? This recipe has the perfect balance of sweet and tart. We used rhubarb we had in the freezer from my SIL's crop this spring.
Raspberry Rhubarb Freezer Jam
6 cups fresh or frozen unsweetened sliced rhubarb
4 cups sugar
2 cups fresh raspberries
1 3-oz. package raspberry flavored gelatin
In a large pan combine rhubarb and sugar. Let stand 15 to 20 minutes or until sugar is moistened. Bring to a boil stirring occasionally. Boil, uncovered, for 10 minutes, stirring frequently. Add raspberries; return to boiling. Boil hard for 5 to 6 minutes or until thick, stirring frequently. Remove from heat. Add gelatin; stir until dissolved.
Ladle into freezer containers. Place lids on. Let stand at room temperature for several hours or until jam is set. Store up to 1 year in the freezer or 3 weeks in the refrigerator. Makes about 5-6 cups of jam.

© 2007-2009 Chocolate on my Cranium, LLC all rights reserved