Knowing I won't have much time next week while we finish getting everything ready for the arrival of #8, I chose a very short but NOT simple Wordfull Wednesday assignment for next Wednesday, Oct. 7. I wanted it short so I could still have the time to read and visit everyone's posts!
Back in 2006, the editors of SMITH, a storytelling magazine, asked their readers "Can you describe your life in six words?" They published a book with the responses they received.
"Found true love after nine months"
"Fourteen years old, story still untold."
"I managed not to destroy anything."
"Nobody cared. Then they did. Why?"
"Cursed with cancer. Blessed with friends."
So your assignment…tell us about your life in six little words.
♥ ♥ ♥ ♥ ♥ ♥ ♥ ♥ ♥ ♥ ♥ ♥ ♥ ♥ ♥ ♥ ♥
September's Wordfull Wednesday winner chosen by random.org is Dana from The White Silk Purse! She's a delightful new addition to Wordfull Wednesday, a teacher, a grandma, and she can hula hoop!
Here's the hand stamped goodness she'll be getting in the mail.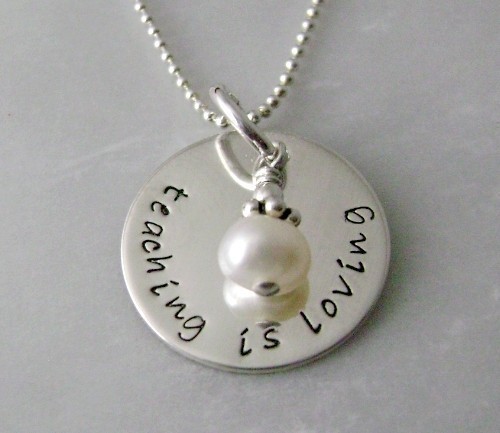 Lovely, isn't it? Visit MNCMoon's etsy shop to find more hand stamped personalized jewelry. They'd make great Christmas gifts!

© 2007-2009 Chocolate on my Cranium, LLC all rights reserved