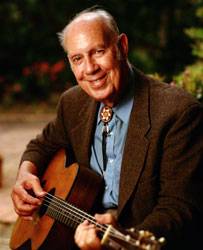 Do you know who this man is?
Any guesses?
I'm almost positive you've heard him sing, especially if you grew up sometime after the '60's or have children now.
Here's another hint. Read the words to one of his most popular songs.
"Whoever shall have some good peanuts and giveth his neighbors none
can't have any of my peanuts when his good peanuts are gone"
Ring a bell?
How about listening to him sing it!
Good ol' Sam Hinton died last Thursday. His songs are so memorable, folksy, and catchy. Smithsonian Folkways reissued Sam Hinton's original album "Whoever Shall Have Some Good Peanuts" in 2006. Download a few songs to listen with your children. I guarantee they'll be giggling at the fun lyrics.

© 2007-2009 Chocolate on my Cranium, LLC all rights reserved