The birthday season has started at our house. The first birthday was Sept. 29. We have a birthday about every two weeks after that all the way into January. Fudge celebrated her seventh birthday on Saturday. She baked and decorated her own cake (a beehive) and couldn't wait to blow out the candles.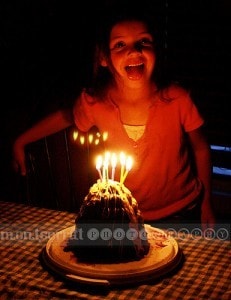 This was taken at a high ISO (1600) because of the darkness of the room. I love how the candle flames created hearts off to the side.
Find more excited photos at I ♥ Faces.

© 2007-2009 Chocolate on my Cranium, LLC all rights reserved