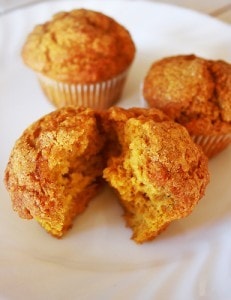 This week has been extremely busy gathering the last of the harvest from the orchard and garden. We've been making pearsauce galore to can, pulling onions to cure, storing butternut squash, acorn squash, and spaghetti squash, and last, but not least, baking pumpkins to puree for the freezer. Nothing beats having fresh pumpkin puree to use instead of the canned stuff (which isn't necessarily pure pumpkin). Regardless of which type you use, fresh or canned, these muffins are delicious! They are the perfect texture, not too sweet, and perfectly spiced.
Pumpkin Muffins
originally published by Gourmet Magazine November 2006
1 1/2 cups all-purpose flour
1 teaspoon baking powder
1 teaspoon pumpkin-pie spice*
1/2 teaspoon baking soda
1/2 teaspoon salt
1 cup canned solid-pack pumpkin
1/3 cup vegetable oil
2 large eggs
1 1/4 cups sugar
Topping:
1 TBSP sugar
1 teaspoon cinnamon
Preheat oven to 350. Line 12 muffins cups with paper liners.
In a bowl sift together flour, baking powder, pumpkin pie spice, baking soda, and salt. In a different bowl whisk together pumpkin, oil, eggs, and sugar. Stir flour mixture into pumpkin mixture. Do not over mix! Scoop batter into muffin cups, dividing evenly amongst each. In a small bowl mix together sugar and cinnamon for topping. Sprinkle over the tops of muffins.
Bake for 20 – 25 minutes.
* If you don't have pumpkin pie spice use any combination of cinnamon, nutmeg, ginger, cloves, or allspice. I used 1/2 tsp. cinnamon, 1/4 tsp, nutmeg, and a pinch each of allspice and ginger.
These are so good you don't even need butter or jam. They'd be great to pack in lunch boxes or for road trips.

© 2007-2009 Chocolate on my Cranium, LLC all rights reserved