Here are some "Sprinkles of Sunshine" that have lightened my life this week.
1. No accidents from Special Dark for over a week! Grandma bought him this flight suit while visiting San Diego. Great Halloween costume.
2. Hershey getting into more of a schedule.
3. Cranking out five quilt tops while Hershey had her big naptimes in the afternoon. Hoping to finish the last one today.
4. Drinking Stephen's Dark Belgian Hot Cocoa (and Chocolate Mint Truffle, Candy Cane, Pumpkin Spice, Milk Chocolate with Marshmallows, and plain Milk Chocolate Hot Cocoa). Thanks Mom & Dad!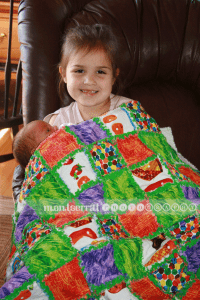 5. Receiving a surprise snuggle sized Very Hungry Caterpillar rag quilt from Meg. Thanks bunches!
What "Sprinkles of Sunshine" have you experienced this week?

© 2007-2009 Chocolate on my Cranium, LLC all rights reserved