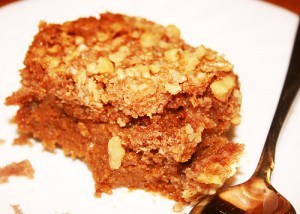 I think besides chocolate and potatoes, pumpkins have to be my favorite food. I can't ever seem to get enough, especially this time of year. We had a family get-together earlier this week and my sister-in-law brought this delicious pumpkin dessert. We loved it so much Bon Bon made it again yesterday.
Super Moist Pumpkin Cobbler
6 eggs, beaten
3 cups cooked pumpkin
2 1/4 cups sugar
1/4 tsp. salt
1/2 tsp. ginger
1 tsp. cinnamon
3/4 tsp. cloves
1 spice cake mix (or yellow cake mix if you prefer)
1/2 cup butter, melted
1/2 cup chopped nuts, optional
Mix eggs, pumpkin, sugar, salt and spices. Pour into a greased 9×13 cake pan. Sprinkle cake mix over the top. Pour melted butter all over the cake mix. Sprinkle nuts on top. DO NOT MIX. Cover with foil and bake at 325 for 40 minutes. Uncover and bake for an additional 40 minutes.

© 2007-2009 Chocolate on my Cranium, LLC all rights reserved