*****THIS GIVEAWAY IS NOW CLOSED*****
Regular readers of my blog know how much I enjoy giving handmade, either by me or made by someone else. The time involved in creating, knowing someone chose to use their time to produce something for you is priceless.
Today I've got a special treat for you, a different kind of handmade gift – the gift of MUSIC. Christmas music to be more specific. As soon as Thanksgiving is over we play Christmas music practically non stop. I enjoy listening to old favorites, adding my voice, belting out familiar lyrics. Discovering new tunes is a treasured pastime. I've found a treasure to share with you.
One of my blog readers put a little bug in my ear about a new Christmas CD filled with ten original songs and three arrangements of familiar Christmas carols. I meandered over to It's All About the Baby to hear some of the songs while reading about the journey Victoria McDaniel has taken in writing, producing and recording this CD. The lyrics she has shared bear pure testimony of that wondrous night so long ago. The songs cover all different perspectives: Mary, the mother, Joseph, and even us. Victoria's arrangements of Silent Night and O, Holy Night are quite unexpectedly, very upbeat. Take a listen to O, Holy Night (scroll to the bottom of the post). My fingers itch to play just hearing the piano in this song! And, the cello, mmmm….heavenly.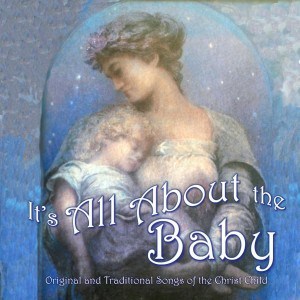 I bought the CD. Actually I bought two, one for me and one for you.
And guess what? Victoria sent me three more. FOUR of you will get to own this lovely, took hours upon hours of talented people's time, gift of music.
Rules for entering:
*Leave a comment telling me what your favorite Christmas song or carol is to listen to.
*You can even tell me who sings your favorite version of the song for an extra entry.
*Spread the word on Facebook or Twitter and come back leaving another comment telling me you did so for another entry.
*Blog about the giveaway and get 10 additional entries. Just let me know in the comment section with a link to your blog post.
*That's a total of 14 entries you can earn! Although you can only win one. 🙂
*Comments will be open until Wednesday, December 9 at 5 pm PST. I will notify winners and also announce them on the blog. I will ship anywhere so international commenters are welcome to enter!
If you are like me and want a CD NOW and don't want to wait to see if you won one by all means go and order a CD from Victoria. They are only $10.99. That's a steal! She's getting down to her last few hundred, and they are selling fast. If she has to order more made, it will take about ten days, and since we are already in the first week of December, that cuts it close to get CDs before Christmas.

© 2007-2009 Chocolate on my Cranium, LLC all rights reserved