Teaching the lesson in Relief Society (the women's organization) in church today on Elder Neil L. Andersen's conference talk "Repent. . . That I May Heal You." There are so many wonderful truths taught in his talk!
Perhaps my favorite is the imagery created by the following,
"I have thought of the Lord's invitation to come unto Him and to spiritually be wrapped in His arms. He said, "Behold, [my arms] of mercy [are] extended towards you, and whosoever will come, him will I receive; and blessed are those who come unto me."1
The scriptures speak of His arms being open,2 extended,3 stretched out,4 and encircling.5 They are described as mighty6 and holy,7 arms of mercy,8 arms of safety,9 arms of love,10 "lengthened out all the day long."11

We have each felt to some extent these spiritual arms around us. We have felt His forgiveness, His love and comfort. The Lord has said, "I am he [who] comforteth you."12
The Lord's desire that we come unto Him and be wrapped in His arms is often an invitation to repent. "Behold, he sendeth an invitation unto all men, for the arms of mercy are extended towards them, and he saith: Repent, and I will receive you."13

Isn't that beautiful? I made a Wordle cloud from that quote. Wordle gives greater prominence to words that appear more frequently. I like how arms, come, extended, invitation, wrapped, and mercy pop out at you.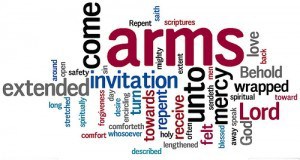 I also learned in my studies the Greek word for repent, metanoeo, denotes a change of heart or mind, i.e. a conversion.

© 2007-2009 Chocolate on my Cranium, LLC all rights reserved