Mind the gap.
A phrase coined for the London Underground to warn passengers about the gap that exists between the station platform and the train. It is a real danger. The caution is needed to protect people.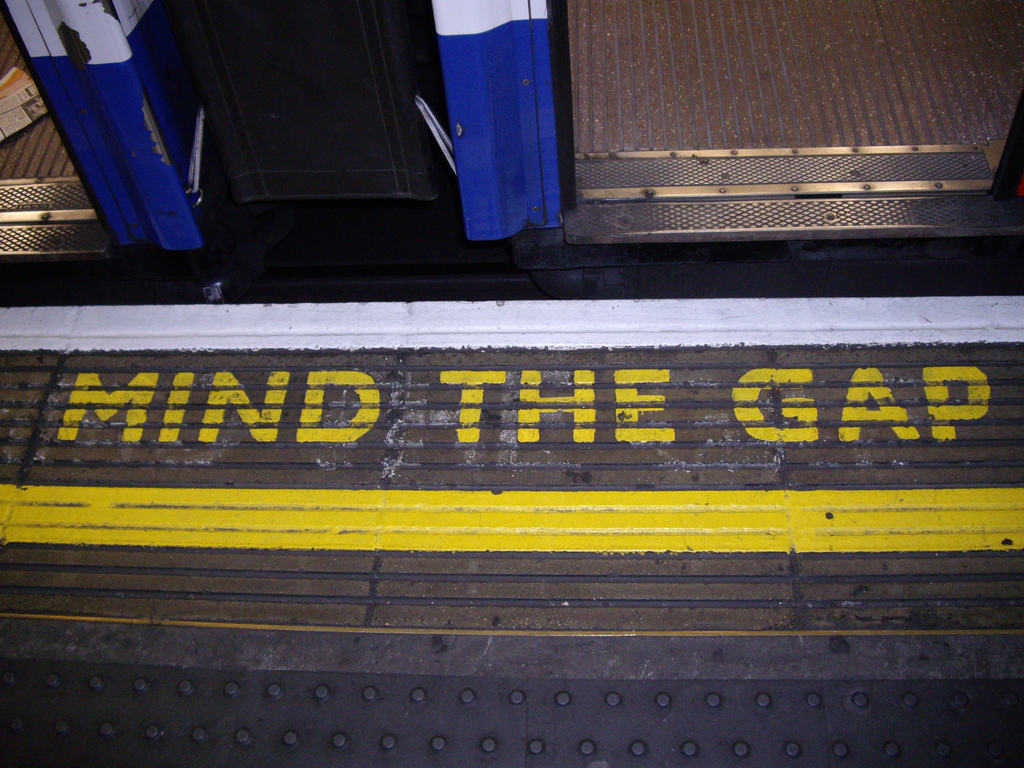 In Relief Society today our lesson was on Sister Barbara Thompson's General Relief Society talk, "Mind the Gap." She said, "Many of us have gaps in our own lives. Sometimes it is the difference between what we know and what we actually do or the gap between our goals and what we actually accomplish. These gaps can be reminders of ways in which we can improve or, if ignored, can be stumbling blocks in our lives."
The women in class came up with different areas in which we find these gaps in our lives. Some of those mentioned were careers, money, education, generation gaps, and motherhood.
Motherhood can be a stumbling block? Oh yes, it can if we let it. Mothering is HARD. It will wear you down if you aren't careful.
When I learned I was pregnant with my first child I had an idealized vision of what type of mother I would be. The house would always be clean, I'd read bedtime stories every night, I'd speak in a gentle tone, never raise my voice, have perfect made-from-scratch meals, well you get the idea.
Of course, I've fallen far short of my goal. I didn't anticipate lipstick drawings on the wall, whole boxes of cereal spilled on the carpet, and requests for the same book to be read for the 1,435,632nd time. I failed to realize how tiring it could be staying up all night trying to comfort a colicky baby. When I raise my voice, yet again, to get after squabbling children or mop the kitchen floor only to find it sticky an hour later I feel defeated, worn down with weariness. How can I do this all over again tomorrow? And the next day? And the next? The gap between reality and my idealized vision of motherhood seems too big a chasm to cross.
Then I remember.
Almost ten years ago (has it really been that long ago?) when I had four under the age of 4 and I was feeling very weary of motherhood I came across two wonderful pieces of literature that helped me change my attitude. One was this article by Winnie Dalley from the March 1998 Ensign entitled "Seize the Joy." I particularly latched on to this quote, "A house does not have to be perfect to be a home of joy, a child does not have to behave perfectly to love and be loved, and every moment of life does not have to be perfect to be of value. Too often, I realize, we fail to see the glorious reality of the simple joy that abounds in the seemingly mundane routine of day-to-day living. Instead, we tend to idolize the past, idealize the future, and devalue the present…. What better way to show our appreciation to Heavenly Father for what we have than to embrace our lives, albeit "ordinary" and "unexciting," with joy?"
I was focusing on all the imperfections of the day rather than recognizing those nuggets of joy sprinkled throughout. The next article I came across helped me realize I was making motherhood harder by trying to do it all on a grandiose scale. For Mother's Day 2001 my mother sent me the book "Arise and Shine Forth" with talks from the 2000 BYU Women's Conference. One talk really struck home for me. It was called "Who Sweeps a Room" by Nancy Young. I've typed up the beginning of her talk here. Unfortunately the transcripts aren't available online so you'll have to find a copy of the book to read it in it's entirety, which I highly recommend doing!
Almost two thousand years ago, in a tender and telling New Testament story, the Savior taught us of the magical nature of home as he created for His disciples an impromptu refuge on an obscure shore. This very familiar story takes place at that critical period when the disciples experienced not only the unprecedented agony of Gethsemane and the betrayal and crucifixion but the unspeakable joy of embracing the resurrected Lord.

What happens now? seems to have been the pervasive atmosphere of their world. A little lost, they returned to the pursuits and prospects they had left, without a backward glance, three years before. "Peter saith unto them, I go fishing. They say unto him, We also go with thee. They went forth, and entered into a ship immediately; and that night they caught nothing" (John 21:3).

Imagine the weariness and discouragement of men whose arms have cast and recast nets, only to draw them back empty again and again. Famished and exhausted, they headed back towards shore. "But when the morning was now come, Jesus stood on the shore: but the disciples knew not that it was Jesus. Then Jesus saith unto them, Children, have ye any meat? They answered him, No. And he said unto them, Cast the net on the right side of the ship, and ye shall find. They cast therefore, and now they were not able to draw it for the multitude of fishes. Therefore that disciple whom Jesus loved saith unto Peter, It is the Lord. Now when Simon Peter heard that it was the Lord, he girt his fisher's coat unto him, . . .and did cast himself into the sea. And the other disciples came in a little ship, . . .dragging the net with fishes. As soon then as they were come to land, they saw a fire of coals there, and fish laid thereon, and bread. . . Jesus saith unto them, Come and dine. . . Jesus then cometh, and taketh bread, and giveth them, and fish likewise." (John 21:4-9, 12-13)

While the disciples were struggling and striving, wavering between hope and despair, the Savior of the world was creating a little, temporary home for them – a place where they could be refreshed and renewed, and later instructed. It was a home first and foremost because he was there. It was a home, too, because like a loving wife or mother, he was considering their needs and pleasures, their comforts and joys- and meting his services to their heartaches and yearnings.

The Savior's little home on that shore also puts me in mind of a sweet homemaker's verse: "All day I did the little things, the little things that do not show; I brought the kindling for the fire, I put the candles in a row, I filled a bowl with marigolds, the shallow bowl you love the best- and the house a pleasant place where weariness might take its rest."

The meal the Savior prepared for His disciples was a simple one. Have you ever wondered at that? This was, after all, the resurrected Lord. He could have produced any food from any corner of the planet and from any period of time. It could have been pate, peach cobbler or pressed duck. Instead, the risen Christ – with hands bearing our wounds – prepared a sweet, simple, familiar meal for his weary followers. And it is upon the simplicity of that meal that I would like to focus particularly. For the Lord was celebrating something we seem to avoid in our culture; he was celebrating the mundane, the repetitive, the ritual.

(Here Sister Young talks about tender mercies, years before Elder Bednar's now famous talk. I'm skipping several paragraphs.)

I know your lives are filled with similar "tender mercies." You are the women who, though bone-tired, tuck a child in and tell a story, who take to a recuperating neighbor a better meal than you will eat yourself; who purchase for your daughter the new sweater you'd like to have; who mend hearts while yours is breaking.

Perhaps, in fact, you feel that it is your arms that ache from forever casting and recasting nets, and who are weary and hollow. Such feelings come. My sister is the mother of five boys, and there are days – not a few – when she raises her hand and in her best playground holler cries out, "I choose not to be the mother today!" On such days, the remedy is the same: look to the Savior, cast in our nets one more time on the right side, and commence pulling up blessings so great we may not be able to draw them in, but must drag them to the feet of the Savior to thank and bless Him. (Nancy Young, "Who Sweeps a Room," BYU Women's Conference 2000)
Isn't that truly beautiful? Yes, I was and am still weary at the end of the day but I am also filled with joy and a desire to "cast in my net one more time." Christ is there helping me along, cheering me on, blessing my efforts to make a little haven, a little heaven on earth. Motherhood is no longer a stumbling block. It is something to improve upon, to enjoy.
The gap is smaller.