"Marriage between a man and a woman is ordained of God and that the family is central to the Creator's plan for the eternal destiny of His children." (The Family: A Proclamation to the World, paragraph 1)
Hmmm…where to begin? I feel like so much is known about our family already. What's left to share?
Some known facts:
♥ We are members of The Church of Jesus Christ of Latter-day Saints (Mormons)
♥ We homeschool
♥ We farm alfalfa hay
♥ Laughter and fun are a daily part of our regiment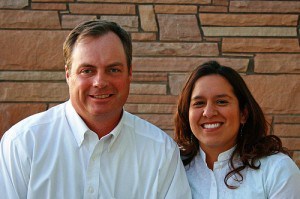 ♥ See this guy? I think he is pretty amazing. Has to be to be able to put up with 8 women in the house, right? Mr. Ferrero Rocher is hard working and enjoys taking the children with him to drive tractors and work in the field. He surprised Bon Bon and Semisweet with a little stick shift pickup to drive around on the farm the other day. It's what we call the P.O.J. truck (piece of junk). I'll have to show you a picture sometime.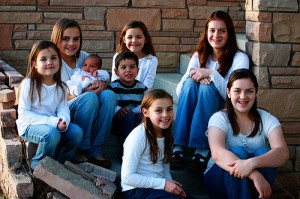 ♥ Nicknames are a must and constantly evolving. One leads to another which leads to another and so on until there is THE ONE that just sticks. For example Brownie's nickname is Bobby. It started off being Billy back when we had four girls and Mr. FR decided to give them all "boy" names. She was Billy for a while, then Billy Bob, then Bobby. Bobby has stuck for over four years. I wish I could say all the nicknames are so easy and 'nice' but, alas, they are not. "Toad" and "Bugsy McGruder" and "Chicken" and "Droolia" are some nicknames for the other girls but I won't tell you which lest they get embarrassed. People from church read this blog and, though the girls like US to use their nicknames, I don't think they would appreciate others using them. 🙂
♥ Reading together is something we do a lot of, whether it is family scripture study right after lunch, or our current read-aloud in the evening. I'll catch the kids out on the hammock reading books to each other in warmer weather. And they race to see who will be the first one on the bookmobile every other Monday when it parks right in our driveway.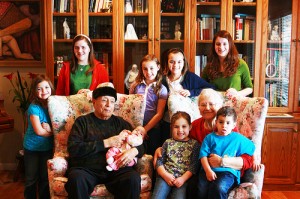 with the abuelitos (the kids' great-grandparents)
♥ Extended family and even ancestors have a big role in our lives. We love teaching the children about where they came from and why we have certain traditions. One wall in our living room is full of photos of our ancestors complete with their names so we remember who they are.
♥ Somethings we don't do well:
keep the house clean or clutter-free
dinners (they are fend for yourself around here)
traffic – the country life has spoiled us in this regard. Going to the 'city' (aka Reno) is dreaded because of the cars and all those people!
parties (well, at least half of the family. I

LOVE

parties)- probably because there are more people. We would just rather stay at home. I get a kick out of this because with Mr. FR being the bishop of our ward we

can't

stay at home, especially from church socials.
You can read a little bit more about our family in this post I wrote over a year ago – Eunuch, I mean, Unique!

© 2007-2009 Chocolate on my Cranium, LLC all rights reserved
Join us for Wordfull Wednesday! Write a post about our topic "My Family" and come here signing the Mr. Linky and leaving a link to your post.