A couple of weeks ago I did some much needed deep cleaning and reorganizing of my sewing supply box. I got tired of all my pins being scattered helter skelter so I sewed some new pincushions. The buttons all got placed in their appropriate compartments, the sewing machine needles were sorted according to usage, and my spools of thread were laid out like a rainbow. I could not figure out what to do with all my filled bobbins. They have their own special drawer but inevitably the thread starts to unwind and it becomes a big tangled mess. What to do?
I finally remembered (two days ago) seeing my mother's bobbins in a drawer like mine but untangled and in perfect order. Here's what she does.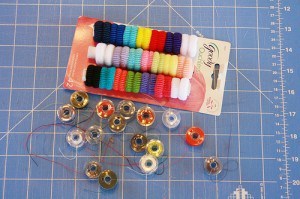 Take some soft ouchless ponytail holders.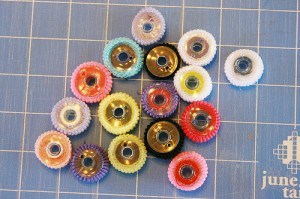 And place them around your wound up bobbins.
Simple and effective, which totally explains why I would never in a million years have been able to think of it myself. Just thought I'd pass on the tip in case there are others who are like me. And if you already knew about storing your bobbins this way what other tips do you have to share on storing your sewing supplies?

© 2007-2009 Chocolate on my Cranium, LLC all rights reserved