The homeschool movement is growing by leaps and bounds. Over 20 years ago, when my husband and I were homeschooled we were hard pressed to find other families at all who were homeschooling. Our parents were truly homeschooling pioneers in their communities. Then our children came along. More families could be found who were homeschooling their children. Now there are a myriad of curriculum choices and homeschooling methods and support groups for homeschoolers. I am excited to announce that today there is a new resource available geared specifically for Latter-day Saint homeschoolers!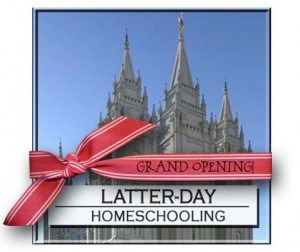 Latter-day Homeschooling has it's grand unveiling today. It's the brain child of Dana♥ who has gathered together a team of very talented LDS homeschooling parents to write posts on topics that cover just about anything you can think of related to homeschooling but from an LDS perspective. A new article will publish every day adding to the articles already in the archive.
I encourage you to go take a look around the Latter-day Homeschooling website. You can browse by subject or grade level or teacher's tools by clicking the links on the sidebar. Let us know what subjects you'd like covered in upcoming articles. We are even asking for guest submissions!

© 2007-2009 Chocolate on my Cranium, LLC all rights reserved