this girl loves to talk
I dont really have any questions.. but I will ask anyway…

How do you find having so many daughters?

As I have four daughters I am always teased about it. Trying for a boy? Just wait till they are teenagers! Oh my FOUR girls etc etc…. my poor husband is ribbed by both church members (who should know better) and regular folk alike! Of course you cant really put an order in upstairs so it feels normal to me….

2 children is a regular sized family in Australia so 4 or 5 kids is considered large here – thats another reason why I love your blog. A nice big family and full of girls (though I still love you special dark 😉
I never in my life thought I'd have so many daughters. Growing up I was a tomboy. I just kind of figured I'd have all sons. I even filled a whole page full of boys names I thought would be good choices for my own children. Most were taken from Louis L'Amor books. ☺
Then I got married, had one daughter, then another, and another. Pretty soon I was being asked to play "tea party" and dress-up. I had no idea what to do! I think there's somebody UP THERE who has a sense of humor. I never really even played with dolls as a child. Not that my parents didn't buy them for me, I just wasn't all that interested.
But you know what?
I absolutely L♥VE it!
I love hearing them giggle. I enjoy all the manicures and "make-up" sessions we have. I love working with them, cooking and baking, sewing. I enjoy braiding and fixing their hair. I'm glad they aren't afraid to work, to get their hands dirty or their clothes greasy when they help their dad. I like that they enjoy being feminine. They've taught me to be more feminine.
I can see a little of myself in each one of them. More importantly I see them as they are. Yes, I have seven girls, but not one is identical to another. They all have different abilities and talents that contribute to our family and will help them be wonderful mothers someday, each in their own way.
The comments we received before Special Dark was born (and some we received after he was born) drove me nuts. We were asked everything under the sun.
Did you mean to have that many girls?
Are you trying for a boy?
Wait until they're all teenagers!
You'll be spending a fortune on weddings.
Girls are much harder to raise.
Did you even need a man to produce all those girls?
How did you clone them?
My daughter drives me crazy. I feel for you with all yours. (This was said in front of the person's daughter!)
What bugged me the most about the questions and comments was not that they were asked so often but that they were asked in front of my children in such a manner that one felt the questioner was belittling girls in general. It wasn't always the case, sometimes the comments were made just for conversation, but it happened more often than not. I did not want my daughters to feel that they were inferior because they were girls. I did not want them thinking that we, Mr. FR and I, felt bad because all we had was girls, that we were disappointed in anyway, because we absolutely were not!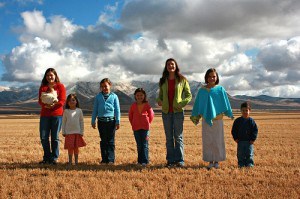 Of course, now we have one lonely boy in the mix. He sure has changed the dynamics of our family.
We wouldn't have it any other way.

© 2007-2009 Chocolate on my Cranium, LLC all rights reserved