waterworks1
I have a question!! You've given the children chocolate based pseudonyms and you use them on the blog easily. Do you also use those names around the house? Do the children know what their names are? Do you have others (outside of the home) use those names for them? Did you create the names to ensure privacy for them? Just wondering. My husband started a facebook page and I requested that he not use our children's given names. Engineering manager that he is, he uses Cost Center #1, #2, #3, and #4!!! I find that most people respect that and comment about the children using their CC#.
I started this blog as a direct result of the increased traffic I was getting on my first blog. I was posting crafts, homeschooling lessons, etc. that were generating traffic to what was initially set up as a family blog to keep our friends and family up to date. I began to be concerned about the privacy of my family. So this blog was set up with silly chocolate pseudonyms for everyone and my other blog went private.
My children do know their chocolate names. We constantly get "Don't eat me!" when brownies or cookies are served for dessert. ☺ We do not use the chocolate names as their regular nicknames around the house. The children have been asked occasionally by others who know us in real life but don't know us very well which ones they are on the blog.They know everyone's nicknames and even helped me come up with Hershey's when she was born. Other names that were in the running for her were Dove,
Michelle
I like your methods for lots of things, and hope to glean some further wisdom from you on this topic: How do you help your babies learn to sleep at night? And take NAPS? (especially with everyone home every day). My much-loved and very-wanted new daughter is an awful sleeper so far, bless her heart! We struggled with reflux for her first couple of months, but now she seems to have outgrown that and STILL will not sleep.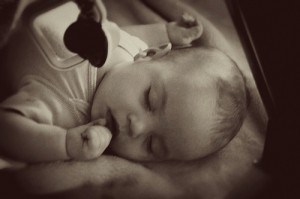 Oh, dear. I am not the person to ask about this! Honestly some of my kids have been wonderful sleepers while others awaken at the slightest noise (like I do). Hershey is in between. Some days it seems that any little sound wakes her up, while other days she sleeps through anything. Anytime she doesn't take naps she makes up for it at night. About 90% of the time she falls asleep about 9:30pm and sleeps until about 6am. So nice! But not all of my children were like that. You would think after eight kids I would have some sort of "magic" something that works but, alas, I do not. I cannot stand to hear my babies cry, even for a minute, so I spoil them by holding them constantly, picking them up from their cribs, etc instead of letting them cry just a little to go back to sleep. I think after holding eight babies/children for the last 14 years I am entitled to have nice, buff arms but that's not the case either!
So, I'm asking for a little help here from my readers. Do you have any special tricks to get your children/babies to sleep through the night? Any good book, website, or article recommendations?

© 2007-2009 Chocolate on my Cranium, LLC all rights reserved