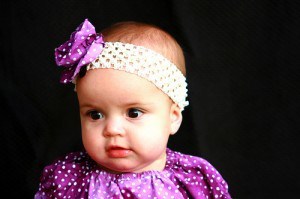 See this pretty little dear? She's got some sort of flu bug. Poor thing was throwing up last night and dry heaving really bad. Her whole body would go completely limp after each little bout. I absolutely hate when my babies are sick. I feel so terrible for them. And I'm sure they feel hopeless not being able to communicate what exactly is wrong. She and I are recovering today. It amazes me how quickly babies can rebound. She's giggling and smiling but still a little lethargic. Mr. FR and the kids have been TERRIFIC about taking over.
Thanks a TON for all the lighting help. I may be contacting a few of you for further help and ideas. I appreciate it!
See you on the flip side of the weekend.
© 2007-2009 Chocolate on my Cranium, LLC all rights reserved