We are in the process of designing a new addition that will be built on our house. I am so VERY excited! The addition will include a new kitchen and laundry room. Both will be about twice the size of their current rooms. Yeehaw! I'll go into detail about those rooms in other posts.
When the new addition is built, the wall between our current kitchen and living room will be knocked down to create a HUGE living room. The room will be about 25 ft x 20 ft. My problem is finding just the right type of overhead lighting to use. I need a little lot of help! Our living room right now has no over head lighting. We have to rely on lamps. And this, my friends, is a perfect example of terrible "recessed" lighting. This is what I am currently dealing with in our kitchen. YUCK!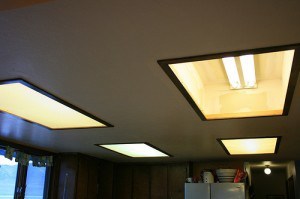 What were the previous owners thinking? They lowered the ceiling in order to "recess" the lights. We are definitely going to change that. But what type of lighting should I use for the overall big room? Recessed lighting, chandeliers, maybe fans? I had recessed lighting in the house we built in Fallon. I LOVED it! Except for the twelve foot ceilings and my fear of heights when the bulbs needed to be changed. Granted our ceiling will only be nine feet high so that's not a problem. What kinds of overhead lighting do you have or have had that you like? I need ideas!!
See, I want to be as ready as possible when the building starts so I'm gathering everything about design plans, cabinet details, lighting, flooring, paint colors, etc. that I want in one big binder. The lighting issue is just one step in this whole process. And I am at a loss.
Help.
© 2007-2009 Chocolate on my Cranium, LLC all rights reserved