It has been nine years since we've read the Little House series aloud. I can't believe it's been that long! Bon Bon and Semisweet remember them. Brownie (11) remembers some of the books but the younger ones do not. I decided it was high time to read them again. It is the perfect beginning to another block of school.
When the cream was ready, Ma scalded the long wooden churn-dash, put it in the churn, and dropped the wooden churn-cover over it. The churn-cover had a little round hole in the middle, and Ma moved the dash up and down, up and down, through the hole.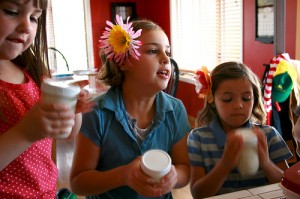 If we were being truly authentic we would have driven to my SIL's and gotten milk from the cow and used an old butter churn. Buttons in jars would act as the dash and cream from the store was used instead.
At first the splashes of cream showed thick and smooth around the little hole. After a long time they began to look grainy.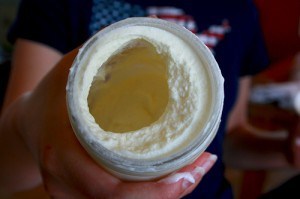 It's getting grainy!
Then Ma churned more slowly, and on the dash there began to appear tiny grains of yellow butter.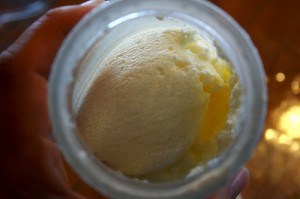 Getting thicker but not done yet!
When Ma took off the churn-cover, there was the butter in a golden lump, drowning in the buttermilk.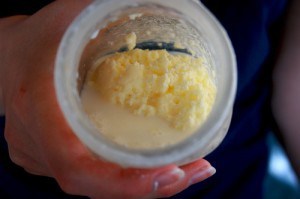 Look at the creamy yellow butter "drowning" in buttermilk.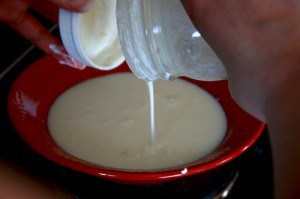 Pouring off the buttermilk.
Then Ma took out the lump with a wooden paddle, into a wooden bowl, and washed it many times in cold water, turning it over and over a nd working it with the paddle until the water ran clear. After that she salted it.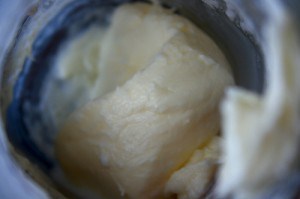 Creamy thick butter washed clean, salted, and ready to mold.
Now came the best part of the churning. Ma molded the butter. On the loose bottom of the wooden butter-mold was carved the picture of a strawberry with two strawberry leaves.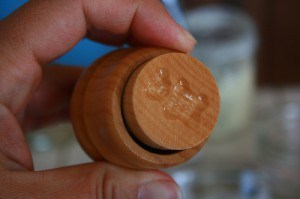 One of our handmade butter molds. Purchased from Lehman's.
With the paddle Ma packed butter tightly into the mold until it was full. Then she turned it upside-down over a plate, and pushed on the handle of the loose bottom.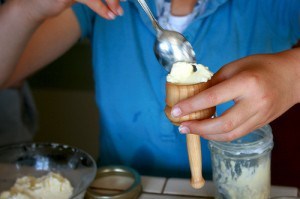 After this step we had to set the molds in the freezer so the butter could harden before taking the butter pats out of the molds.
The little, firm pat of golden butter came out, with the strawberry and its leaves molded on the top. Laura and Mary watched, breathless, one on each side of Ma, while the golden little butter pats, each with its strawberry on the top, dropped on to the plate as Ma put all the butter through the mold.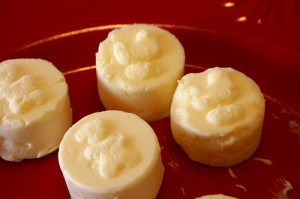 Our little pats of butter with bears and birds.
© 2007-2009 Chocolate on my Cranium, LLC all rights reserved