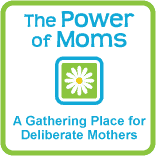 Have you heard of the Power of Moms site yet? It was started by April Perry and Saren Eyre Loosli as a gathering place where mothers could find support, motivation, and inspiration. A place where mothers could uplift each other regardless of religion, education, income, or family-size.
What's so special about Power of Moms that is different from other "mother" sites out there?
Our purpose is to inspire and empower you to become the mom and person you are meant to be while giving you the opportunity to help other mothers grow into the mothers they are meant to be. . .

We believe that motherhood is a valuable and valiant pursuit and that mothers need and deserve more support, appreciation and opportunities to learn from each other. We believe that mothers are precious and indispensable—we bring children into the world and strengthen societies by loving and nurturing our little ones. We are heroes to our children as we create homes of safety, warmth, and love—while throwing in some tickle fights and blanket-tent-construction. . .

In the midst of all of the sacrifices that we make to care for our families, we sometimes forget that mothers are people, too. We believe that even in the midst of mounds of laundry and children's interruptions, moms can and should find time and resources to nurture themselves. Read more here.
Power of Moms has ideas for nurturing yourself and strengthening your family. Daily articles written by a variety of moms are posted to inspire and help you.
One of the programs that they offer called Mind Organization for Moms (M.O.M) was developed by April and is based on best-selling book Getting Things Done®, by David Allen. She put together a simple but powerful 5-step process to help busy moms get their minds (and life) organized. I'm still in step 1 of the process because I didn't realize how much I had running through my mind of projects and to-dos that need to get done. April calls it Mind Sweeping. Can I just say there are some awfully dusty corners of my mind that haven't been swept in a very long time!
Power of Moms wants to offer you the M.O.M program for free! Yup, another giveaway. I didn't mean to do two giveaways in a row. Honest. It's just how things turned out. Leave one comment on your favorite part of motherhood to be entered for your chance to win. Giveaway ends June 14, Monday night, 8 pm PST. Short, I know, but I want to give this great program away!
© 2007-2009 Chocolate on my Cranium, LLC all rights reserved