I LOVE red. My dining room is red. I have a huge set of red dishes, enough table settings for 24. ☺ They complement the white table settings I also have (16). And now I'm venturing into red bakeware.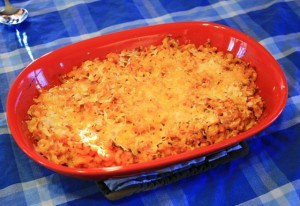 Why do I like red so much? Because it can be used for so many different holidays: Christmas, Independence Day, Valentine's, Memorial Day, Thanksgiving, etc.
And guess what? You too can have a set of red casserole dishes, courtesy of CSN Stores.com. Just in time for summer BBQs!
Giveaway Rules:
1. Leave a comment telling me your favorite thing about summertime. Mine is the scent of freshly mown hay.
Extra entries: Leave a separate comment for each.
2. Tell me a favorite summertime recipe. We LOVE to experiment around here and enjoy trying new recipes.
3. Spread the word about the giveaway through twitter or facebook.
Giveaway ends Sunday, June 13, at 5pm PST.
Good luck!
© 2007-2009 Chocolate on my Cranium, LLC all rights reserved