Many of our family home evening lessons have stories with pictures. Typically I would hold up a picture and tell the words to the story that went along with the picture. My sister-in-law came up with the idea of using a paddle board to hold the story using binder rings.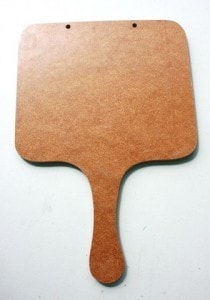 She types up the words of the story and glues them to the back of the pictures but does it so the words on the back of a picture go along with the next picture.
Let me illustrate what I mean. Fudge is holding the paddle board with the title page of the story showing. She flips the title page over so the first picture will show to the "audience."
The "audience" sees the picture of Spencer W. Kimball while she sees the words that go along with the picture. They were taped to the back of the title page.
When Fudge is done reading the words, she flips the picture of Spencer W. Kimball to the back and reads the words taped on the back of it that go along with the next picture that the "audience" sees.
The paddle boards are a great teaching tool for Primary and Family Home Evening when you want to share a story with pictures. The stories we use come from the the Beginning Gospel Course Kit CD-Rom. This is a great resource for teaching Primary Children. It has 55 illustrated (well done pencil sketches) true stories that go along with gospel lessons also contained on the CD.
Here's the pattern we used. Just click on the pattern to enlarge in a bigger screen to print off. Follow the directions and measurements to create your own paddle board.