July 24th is Pioneer Day in celebration of the arrival of the first Mormon Pioneers to the Salt Lake Valley. In an effort to teach our children about their pioneer heritage we are learning about their pioneer ancestors. We are lucky to have access to detailed records of their lives. This week's posts all come from a book my grandmother wrote to her grandchildren about our pioneer forefathers. This book was written in 1989 when the oldest grandchild (me) was 12 so keep that in mind as it is written specifically for children.

**************************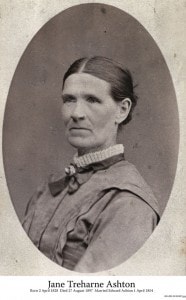 Jane was also born in faraway Wales. She too joined the Mormon church and came to Utah. This is her story.
When she and her family lived in Wales, Jane's father was always looking for the right church. He had studied different religions but did not feel they had the truth. One day he heard that there were some new missionaries in their little town of Llangendeirne.
He said to Jane, who was about 17 years old: "Jane, you go to the meeting and listen to the missionaries and then come home and tell me what they say." So Jane did that, and when she told her dad all about what two Mormon missionaries said, Jane's father slapped his kneww and said, "That's the religion I've been looking for all my life!"
All the family was baptized. Later they came to America and New Orleans, like Edward, on a sailing ship. When they left Wales, there were the parents, Jane and three sisters about her age, and a little brother William, who was 10. But as the family traveled up the Mississippi River and to Council Bluffs, both the mother and the father died of cholera.
So in Council Bluffs Jane and her sisters had to go to work to earn enough money to finish their trip across the plains. Jane cooked in a school. They went to Mormon meetings in Council Bluffs, and one day she met a young man, Edward Ashton, at the meeting. She did not get to know him very well, but after that first meeting she told one of her sisters, "That is the man I will marry someday."
When Jane reached Salt Lake she began working in the home of John Taylor, one of the apostles. After Edward came and began finding work, he started to make shoes for pioneer families. One was the family of John Taylor. SO Jane and Edward were able to meet again and to begin their courtship. Two years later they were married by Brigham Young.
The Happy Years
Now begin the happy years for Edward and Jane. Their first home was not like any of ours.
It had one room with boxes for chairs and a table. In the corner was their bed which was four posts with ropes stretched back and forth in between, like a net. They laid corn husks on these ropes, then the bedclothes.
Later, when their family began growing, Edward and his boys built another home out of adobe. At first it had only two rooms, but as their family grew they made it bigger. They planted fruit trees and a garden of cabbage, radishes, beets, carrots, tomatoes, corn, potatoes, and berries.
Under the fruit trees was a playground for the children – swings, tricky bars, and a place to play croquet. There were seven children – the second boy was named Jed – he was your great great grandfather – and you will hear about him soon.
One of the children wrote about this home: "On this small farm we had our happy home, playground, cow pigs, chickens, and raised most of our food and fruit. Father (Edward) earned about $45 a month, and mended all the family shoes, working every day and never going into debt. We had one of the happiest homes that could be found."
In spite of the hard times they had when they were young, Edward and Jane made a little heaven on earth for their children. Edward always loved music – Welsh people usually do – and he led the ward choir for 15 years. Today they have many wonderful descendants. You are some of them. Another descendant is Elder Marvin J. Ashton, (1915 – 1994) one of the Twelve Apostles.
continued Thursday (Wordfull Wednesday is tomorrow)….
© 2007-2010 Chocolate on my Cranium, LLC all rights reserved