"Hi ho, hi ho, it's off to work we go…"
For some, work is a drudgery, something that has to be done, plowed through at the quickest rate possible so one can get to the fun. Others view work to the extreme never taking a break to rest or relax, viewing fun as a waste of time that could have been spent working. Our family views work as a blessing. It is for our benefit that the Lord has commanded us to work. In the beginning, while Adam and Eve were still in the Garden of Eden they were instructed to "dress it and keep it" (Genesis 2:15). We find other examples of hard working people in the scriptures: David tending sheep, Noah building an ark, the apostles fishing, Esther gleaning wheat.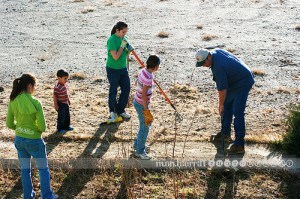 The best way we've found to teach our children the benefits of work is to work right alongside them, whether driving tractors on the farm with dad or doing household chores with mom. Our children learn how to do a job properly, what our expectations are, and gain satisfaction in doing their work well. Working together draws us closer as a family. You learn a lot from a person when you are ankle deep in chicken manure mucking out the coop!
Of course, our ideal is to have everyone happily working together, whistling joyful tunes, no frown to be seen anywhere. But, alas, it would be dishonest to say it is such. There are times when everyone is in a good mood but there are also times when some one is disgruntled about something. Okay, usually several someones. Bound to happen the more people there are to work with. But we are improving! The older children are typically really good. I think they've learned that they'll have to work no matter what so they may as well enjoy it.
Another reason we want our children to be industrious is because " idle hands are the devil's workshop." James E. Faust said, "Work is another deterrent to evil. The symbol of Utah is the beehive. Our forefathers fostered industry and work. Elder John Longden, an assistant to the Quorum of the Twelve Apostles, quoted Herndon as saying, "Satan selects his disciples when they are idle; Jesus selected his when they were busy at their work either mending their nets or casting them into the sea." What a great truth!
Another great truth is learned from the beginning of Genesis. After God created the earth he rested. Taking the time to rest from our labors is also important. I firmly believe that our fun times together as a family are truly more enjoyable because we have worked together as a family.
********************************
This will be the last Wordfull Wednesday for a couple of months. I'll be taking the first couple of weeks of August off from blogging – then I have something grand in store for September. A month long celebration you won't want to miss!
********************************
Join us for Wordfull Wednesday! Write a post about today's topic, then come back and sign the Mr. Linky leaving the url to your post.
Work – President David O. McKay said, "Let us realize that the privilege to work is a gift, that the power to work is a blessing, that love of work is success" How do you instill the value of work in your children? Do they do chores around the house? Do you work together on projects? "Successful marriages and families are established and maintained on principles of faith, prayer, repentance, forgiveness, respect, love, compassion, work, and wholesome recreational activities." (Family Proclamation, paragraph7)
© 2007-2010 Chocolate on my Cranium, LLC all rights reserved