Just two days until our Celebrate Family month begins! Aren't you excited?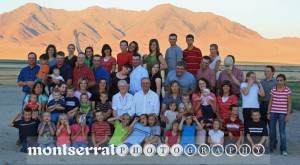 I thought so. Me, too!
Because this is such a HUGE celebration, with over 30 giveaway prizes and over 50 guest bloggers posting on my blog and Jocelyn's I thought I'd give you an overview of how everything will go and how to join the celebration.
But first…..the winner of the wood burned Family Proclamation for the Spread the Word Giveaway is
#47 Rachel who blogs at Tex-Hess!
Congrats! Please send me an e-mail at chocolateonmycranium [at] live [dot] com.
Now down to the nitty-gritty details.
1) Every Monday we (Jocelyn and I) will host a blog hop. Write a post about that week's topic and link to it on the official blog hop pages. Yes, you can link to the same post on my page and on Jocelyn's page, or in other words enter twice! Here are the topics so you can get your creative juices flowing to write your posts to correspond with them.
September 6 – Photo Essay: Photos that "say" something about the Family Proclamation. For example, a picture of your family playing a game with the caption from the proclamation that says, "Successful marriages and families are established and maintained on . . .wholesome recreational activities."
September 13 – Crafts about the Proclamation or family
September 20 – Sharing the Proclamation…Example: Take sidewalk chalk and write one truth from the family proclamation some place where a lot of people would see it. Post something at work. Do something artistic with it. Present it to a neighbor or friend. Blog about an experience when you shared it with someone.
September 27 – FHE Lessons pertaining to some part of the Proclamation.
There are specific prizes set aside just for those who participate in the blog hops.
2) The majority of the prizes are for those who leave comments throughout the week on the guest bloggers' posts. It was rather audacious of me to ask these wonderful people to take time away from their busy schedules, work, and yes, even families, to write a guest post. I am extremely grateful to them! You will be impressed by their thoughts and ideas, and the portions of their family life they will be sharing with you. Take the time to leave them comments and participate in discussions. Pretty please? The more comments you leave the more chances to win prizes.
3) Visit Jocelyn's blog each day as well. She has a different set of bloggers lined up so you get a double whammy of posts each day about families. How wonderful is that? Leave comments there too to be eligible to win the prizes she is giving away.
4) Every Wednesday and Friday we will also provide a place at the bottom of the guest posts for you to leave links to any posts you have written about your family or any topic covered in The Family Proclamation. These will be separate from the blog hops but will allow a way for everyone to share the links to their posts so others can come and visit. Oh, and yes, there will be a couple of prizes given away to those who do this.
All prize winners for the week will be announced on Sunday evenings.
5) Just enjoy your own families. The whole month of September we are celebrating the 15th anniversary of The Family: A Proclamation to the World. Read it! Share it with your family. Share it with your friends. Spend more time with them. Turn off the TV. Turn off the computer. ENJOY YOUR FAMILY!
© 2007-2010 Chocolate on my Cranium, LLC all rights reserved