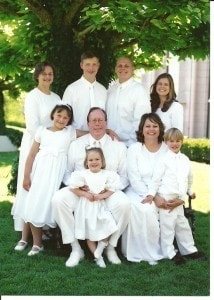 "The divine plan of happiness enables family relationships to be perpetuated beyond the grave. Sacred ordinances and covenants available in holy temples make it possible for individuals to return to the presence of God and for families to be united eternally."
~The Family: A Proclamation to the World~


This was the best day of my life.
Beautiful.
Perfect.
It was the day
our family was sealed
for
Time and All Eternity
in the
Salt Lake Temple–
or the Pioneer Temple,
as our family calls it.
I'm the only Latter-Day Saint
in my family
as
Mr. Wonderful is the only
Latter-Day Saint
in his too.
That makes us pioneers in our own right,
so when it was time
to choose which Temple
to seal our family,
the Salt Lake Temple
was the obvious choice.
Our special day was June 25th, 2004.
Just six years ago.
Don't we all just have the greatest smiles on?
I'd arranged the photographer to meet us
right after the sealing
so those smiles
are fresh
and
true.
That day in June,
there were 54 other couples being sealed–
fifty of them were young couples just being married.
When our family came out of the Temple,
there were wedding parties
all over the beautiful temple grounds.
As our photographer placed us
under this tree,
our first photograph–
we were surprised to see other
photographers gather around us
and also snap away with their cameras.
My oldest son, David Scott
whispered in my ear,
"What's going on? Why are they doing that?"
I thought about it and said,
"Well maybe it's because we represent
eternal families today."
The other wedding parties
were young and vibrant–
but I guess seeing children
dressed in white
with their parents just touched their hearts.
I don't know.
But
I was on Cloud Nine.
I wish we could go back to the Temple
once a year,
the whole family,
right back to the same sealing room,
ya know,
and just BE TOGETHER
as a family…
just to be sure we're all
where we should be
in Life.
Because it was the best place
in the world
to be with my family–
to have that eternal-ness
all around us.
To have just a glimpse into
eternal possibilities.
Having an eternal perspective
is the foundation of our family–
the fussin' and fightin'
the kissin' and makin-ups
they all matter.
Because what we have at stake
aren't just family relationships
that are to be
endured and tolerated
in this life,
to be left in the dust tomorrow,
no,
we're building more than that
in the walls of our home,
and when you're building something
you believe is meant to last forever,
you take it seriously.
At the end of the day,
I have to be "right" with my kids,
and they have to be "right"
with each other.
Discipline is meted out with purpose–
to teach, to prepare, to grow
these young ones
into responsible,
faithful
loving
adults.
As earnest as I may try,
I mess up.
I need forgiveness from the people
I love most.
So humility is my goal here,
as I urge my young ones to do their best,
to show their best,
to repent and improve
and be gentle on themselves too.
To laugh more
at myself,
gives them permission to laugh
at themselves.
We're participating in God's Greatest Plan–
the Eternal Family.
And whatever else we may deal with
as we learn and grow
in the lab of our family walls,
nothing
nothing
nothing
is more important
than the relationships we build
with one another.
So yeah, we'll deal with
the normal challenges of a growing family
head on,
and somedays there is
weeping
and
wailing
and
gnashing of teeth,
doors taken off of hinges,
time-outs
groundings
and grumblings.
But there are also
apologies offered,
hugs given,
prayers heavenward,
forgiveness offered,
hearts mended.
Because I believe this to be true:
Families Can Be Together Forever.
***********************************
Dawn M. Anderson is the Mother of seven yahoos. She is also a doula/midwife assistant, has her own Home Staging business, is a professional calligrapher, lover of South Carolina peaches and the 4th of July, Feeder of LDS missionaries, lives in the Colorado Rockies with her own Mr. Wonderful and blogs it all at Momza's House.
© 2007-2010 Chocolate on my Cranium, LLC all rights reserved