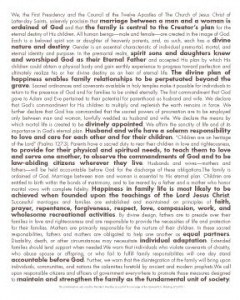 Hi! I'm Heather. I'm a mom, a blogger, and a graphic designer. I am happy to contribute a post for the Family Celebration. I love the Proclamation, but my house is a bit funky and modern and the available version didn't fit very well with the rest of my decor. I wanted to create something that I could frame that would fit in with the rest of our crazy belongings. So, a few years ago, I designed one for myself. Same exact text- just laid out a bit different. I have a few different versions on my blog, The Modern Hive. I originally made it 12×12 for digital scrapbooking and then created a 8.5×11 version as well. I discovered that although I like that size, I wanted a smaller version to hang up in a different color. So, this celebration is the perfect reason for a re-do! The new version chocolate brown -a shout out to Chocolate on my Cranium 🙂 and sized to fit an 8×10 frame.
To download this version for your own personal use, just right click (pc) or option click (mac) on this link:
Modern Proclamation on the Family 8×10
This will allow you to save the pdf file to your desktop. Pop some card stock into your printer and print out the pdf. You will then be able to trim it down to fit nicely for your chosen frame. I'm going to put mine in flat black frame with a white gallery matte and hang it next to the orange letter "c" (our initial) on our wall. You could get crazy with it and print it on canvas, onto colored card stock, or vellum. I'd love to hear how you are using it!
****************************
I love to create. My memories of childhood are filled with making things. I was always working on some sort of project- and then sometimes trying to sell them to my poor neighbors. I have a passion for vintage goods, simple design, and love to re-mix old stuff into new things. I love giving thrifted things new life. I try to be health conscious & earth friendly and have vowed to own chickens some day. I am a mom, a wife, and work from my home studio along side my kids who love to make art messes as much as I do.
Find more of Heather's awesome designs at her blog, The Modern Hive.
© 2007-2010 Chocolate on my Cranium, LLC all rights reserved