Today I was reminded that one of my favourite things is to hold The Mr's hand.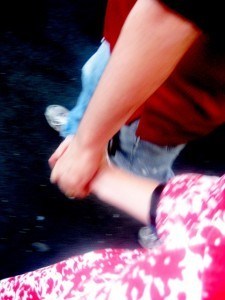 Sometimes it can be a long time between hand holding.
My hands are often so full of other things. When we go out as a family, I have small little hands nestled in mine, or a pram to push. At home I am cooking or cleaning or ferrying things from one place to another. My arms are full of pudgy bundles of babies. My fingers spend more time caressing the computer keyboard than they do curled inside the soft, warm, all encompassing hand of my most favourite person.
And how did I find this out? We spent time together (ALONE!) and had a long walk ahead of us. Perfect Hand holding time!
Why is the hardest commandment to follow also one of the easiest/most enjoyable?
THOU SHALT GO ON A WEEKLY DATE WITH THOU LOVELY SPOUSE!
Ok Ok so it isn't a commandment persay, more like advice..
but advice that has come from Prophets, Area Authorities, Stake Presidents and Bishops
A year ago I had an epiphany from someones else ephiphany.
She wrote this on her blog Lucky Holly (sorry its a private one)
Just now I was thinking about my husbands comment yesterday in gospel doctrine class at church. In essence it was that we need to continue to experience the feelings of the holy spirit and not to rely on our experiences of yesterday.

My thoughts merged in to the fact that it is the same with marriage – love and romance also. To continue to let those loving and romantic experiences take place so that our "testimony" of our spouses love can grow and develop further.

Unfortunately I didn't understand before why we were supposed to go on dates etc. I am not anti date by any means however having a small crowd of children can make it difficult even for the most experienced babysitter. Too much hassle? Don't want to put good friends out.

I get it now, why it's important and all that. Can you have a testimony of dating? Of your own husband that is…?
Now that is one testimony I definitely want to have.
The parts of the proclamation that I'm focusing on here are : Husband and wife have a solemn responsibility to love and care for each other …. and wholesome recreational activities.
How could one of the most fun commandments (well ok, "advice") be one of the hardest to keep??

It's ridiculous really. I need to rearrange my timetable to fit this in. Who doesn't want to go on a date?

We recently have realised that a weekly date is NEVER GONNA HAPPEN.
Obviously. As last year we only went on a few.
So this year we made goals.
A goal of one date a month and one temple date a month.
Some months we are good. Some months not so good.
But we HAVE THE DESIRE NOW!
I like to keep this quote below in mind. There can be no NEGLECT or DELAY in looking after ones relationship with their spouse. It is IMPORTANT to not let it get beyond repair. Sometimes when our relationships are GOOD we think we can forgo things like dates, alone time, being there for each other.
Love is like a flower, and, like the body, it needs constant feeding. The mortal body would soon be emaciated and die if there were not frequent feedings. The tender flower would wither and die without food and water. And so love, also, cannot be expected to last forever unless it is continually fed with portions of love, the manifestation of esteem and admiration, the expressions of gratitude, and the consideration of unselfishness." – Spencer W Kimball)
And another quote I found in the ensign
Just as the dating and courting period serves the very real purpose of helping a couple get to know each other, so do special husband and wife dates serve a very real purpose in assuring that we continue to know one another and grow together
Husband and wife have a solemn responsibility to love and care for each other. Solemn! It makes it sound so serious. So obviously it is! I am going to take this to heart and remember that I have several responsibilities in my life and that my husband is one of the top ones.
So now that I am converted to the importance of spending time with my husband leave some dating ideas in the comments box!
**************************************
This Girl Loves to Talk is wife to The Mr, mother of 4 girls and lives in Australia! She started blogging two years ago and hasn't looked back. She dabbles in many crafts but isn't expert at any of them which is why blogging appeals to her so much. She loves life, laughter, family and fun and she loves to TALK!
© 2007-2010 Chocolate on my Cranium, LLC all rights reserved