Occasionally my children say something that is accidentally so funny, I cackle out loud. Today was Grant's turn. We were on our way home from church, and he was telling us about his primary teacher, "My teacher has a baby in her belly. She's having a baby boy." I replied, "Oh yeah, you're right. She's having a baby next month." There was a long pause and then Grant inquired from the back seat, "Mom, are you so glad that you're all done laying babies?" Matt laughed so hard I think he spit on the windshield. We kept looking at each other and laughing over and over again. "Yep, Grant. I am glad." I've never told him I'm done having kids, but maybe he's on to something.
There is probably no topic more sensitive than how many children to have. I know that some women cannot have children and they ache. I know that some women have more children than they can count and feel like they lost their soul somewhere in the process. I know many women that have more children than I do and pull it off seemingly flawlessly, leaving me in dumbfounded awe. I have to admit that when it comes to this topic, I am a big, fat chicken. I pretty much feel at least once on a daily basis that my three children have definitely maxed out, if not surpassed, my own limits of motherhood. On other rare days, I see a cute smiling baby, or hear news of a good friend announcing her fourth pregnancy, and I feel a very teeny-weeny (very, very teeny-weeny) bit jealous. But then I snap myself into reality (I like sleep. I need sleep. I'm getting too old to function without sleep.) and I say, "Steph, you could not pull off another kid and survive." I hold a deep respect for my own mother, who had four, for my two grandmothers who had nine and seven, and hope that I can live up to their motherhood quality without having to match their quantity.
And then I think about the love and gospel truth that we have in our family and who am I to withhold that from another one of God's children, when there are so many other scary families where that child might otherwise land? Then I hope my fear is just a little anxiety talking, and I try to reassure myself that Heavenly Father is probably much more deliberate about his placement of children– that He doesn't just haplessly toss them to the next dysfunctional couple in line. That part I am sure about: God has a family plan. The part I'm not so sure about is my own obligation in this plan. Maybe obligation's the wrong word, but I do want to do what I should do. I'm just afraid of what that might mean.
The Proclamation on the Family quotes Proverbs and declares, "Children are an heritage of the Lord." I believe this to be true; my children are a gift from my Heavenly Father, and I am confident that they are an integral part of my mission and development here on earth. However, there are SO many differing philosophies on this topic, and the believers of every party are quite passionate about their own cause. Some argue for the mental health of the mother and appropriate attention to the child. Some argue a "quiver full" concept and claim that we should welcome as many children as might come our way. Many argue for something somewhere in between, a delicate balance of self-sacrifice and self-preservation. And I think that maybe they are all right, IF they make their decisions with much prayer and consultation with the Lord. As Shakespeare would say, "Ay, there's the rub."
I have declared confidently many times that "I'm done" with three children. That's my preference. But there's a clause, of course, because what if God doesn't think I'm done? It is my responsibility to surrender my will to His. And this is why I don't pray anymore. (Kidding.) But, I'm human, and I sometimes fear His will. I've claimed–somewhat tongue-in-cheek– that if God wants me to have another child, he'd better send me an angel and make it very clear. I will obey. I'll cry for nine months, but I'll obey. Oh, and then I add a condition that if He's going to do that, to please do it sooner than later because this spring chicken's not getting any younger, and I don't want Natalie to be starting junior high and then have some Abraham's wife Sarah-ish kind of experience where I find out that my golden years will be lined with diaper cream. But if He's fine with me being done at three, then it would also be nice to have some kind of "Well done, thou good and faithful servant. Go thou and sleep all through the night" experience so that I don't spend the rest of my life wondering if I was supposed to have one more but wasn't paying attention the day he sent me the memo. Aaaaagh. This is very tricky business.
The real issue here has very little to do with what family planning philosophy I choose to embrace. In my mind, what it comes down to is this: It's not so much about having a certain number of children as it is learning to get clear answers to my prayers. Being at peace with my decision. Living life with no regrets.
"The ability to qualify for, receive, and act on personal revelation is the single most important skill that can be acquired in this life. Qualifying for the Lord's Spirit begins with a desire for that Spirit and implies a certain degree of worthiness. …

Revelation can come hour by hour and moment by moment as we do the right things. … Personal revelation gives us the understanding of what to do every day to increase faith and personal righteousness, strengthen families and homes, and seek those who need our help. Because personal revelation is a constantly renewable source of strength, it is possible to feel bathed in help even during turbulent times.

We are told to put our trust in that Spirit which leads us "to do justly, to walk humbly, to judge righteously." We are also told that this Spirit will enlighten our minds, fill our souls with joy, and help us know all things we should do. Promised personal revelation comes when we ask for it, prepare for it, and go forward in faith, trusting that it will be poured out upon us." ~Sister Julie B. Beck
Yep, I'm a big chicken. A baby-laying chicken. Bawk-bok-bok-bok-Bawk. Thank heavens I know where to find the courage to do it right.
************************************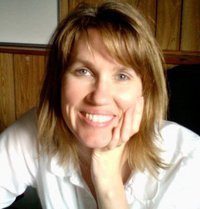 Stephanie is a mom of three young and relentless children. Her interests include latin music, naps, restaurants, writing, travel, teaching, housework denial and long showers. Stephanie seeks for the divinity in motherhood— tries to share it when she finds it, and tries to laugh when she doesn't. She blogs for fun, posterity, and therapy. Her musings are chronicled at Diapers and Divinity.
Have you written any posts about family or the proclamation? Link them up here for others to come read and enjoy.
© 2007-2010 Chocolate on my Cranium, LLC all rights reserved