I am grateful for the opportunity that I have to share my thoughts and feelings about this important modern day revelation, The Family: A Proclamation to the World. Families are a wonderful gift from our Heavenly Father and an important detail of the Plan of Happiness. This Proclamation confirms to the world the vital role that we as parents play as we raise our children.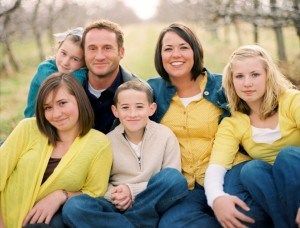 I am married to my best friend and mother to four wonderful children. These are the most important jobs I will ever have and nothing will bring me more joy or fulfill me as much as these roles will. My favorite part of the Proclamation is this:
"By divine design, fathers are to preside over their families in love and righteousness and are responsible to provide the necessities of life and protection for their families. Mothers are primarily responsible for the nurture of their children. In these sacred responsibilities, fathers and mothers are obligated to help one another as equal partners."
The world we live in often makes motherhood appear less glamorous, less appealing than just about anything, and it can be easy to get sidetracked and forget what is truly important. This inspired revelation serves as a reminder to us that these sacred roles of husband, wife, father, and mother are what really matter.
There are so many things that we can do to make our homes sanctuaries for our children. A place where they feel safe, and loved, and comforted. We have family prayer and scripture study, we hold family home evenings and family councils. We communicate and listen. One thing that I believe can make a really big difference is music. In our home, we listen to a lot of music. I am a music fanatic. I play the piano and organ and have an extensive digital music collection. Music is almost always playing. Folk, classical, jazz, pop, gospel. We like it all, as long as it is clean. Music has the ability to create feelings and moods. Whenever I am feeling stressed, or frazzled [which as a mother can happen often,] I have a few albums that lift me up. They are my go-to albums. In my opinion, they are must haves. As my contribution to this month's focus on the family, I would love to share three of them with you.
1. Love is Spoken Here – Mormon Tabernacle Choir. This is an album that I constantly turn to. It fills our home with the Spirit and fills my heart with peace and love. I recommend it to everyone, no matter your religion or background. It is sacred music.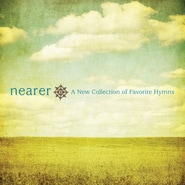 2. Nearer: A New Collection of Favorite Hymns – Various Artists. I love this album so much because it has turned some of the most beautiful hymns into more current sounding renditions. They have a very indie folk feeling and it's music I can listen to on any day of the week. It uplifts me, and makes me happy.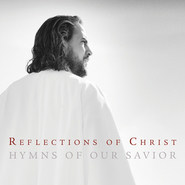 3. Reflections of Christ – Various Artists. A couple of years ago, our family had the opportunity to visit the Mesa Arizona Temple Visitors Center and walk through the Reflections of Christ Exhibit. It was breathtakingly beautiful and the music that accompanied those pictures is on this album. I love Freddie Ashby's amazing "Come, Thou Fount of Every Blessing" and Alex Boye's "Be Still, My Soul." Both are such powerfully moving pieces.
As a mother, I love to introduce my children to new music and open their ears to different styles and genres. The most important music I can share with my children, is music that helps them feel close to their Heavenly Father and Savior. I know that The Family: A Proclamation to the World is inspired and from our loving Heavenly Father to give us guidance in these troubling times. I am so thankful for it.
************************************
Marilyn is passionate about family, faith, music, and beautiful things. Her family has a blueberry farm, her kids raise 4H Pigs, and she creates wonderful music mixes for each month of the year. She blogs at Passionista.
© 2007-2010 Chocolate on my Cranium, LLC all rights reserved