The Salt Lake neighborhood we lived in was grand. It really was a terrific place for families. There were so many kids to play with! Most were in our ward (church congregation) and we went to the same schools. Our church building LeGrand Ward was just a couple blocks up. Emerson Elementary was another block or so past that.
My best friend, Emily, lived right next door. I always thought her house was funnest because they had a sand pile in the back. We used to sit on our front porch swing and see who could kick their shoes off the farthest into the street. We'd climb the apple and apricot trees in our backyards, walk to school together with the Ellises (more neighbors), and go to Liberty Park and Hogle Zoo.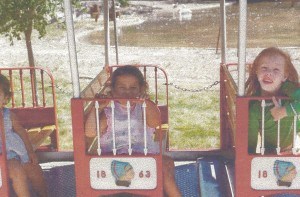 Me and Emily on the train at Hogle Zoo
Winters were filled with snow, snow and more snow! We'd bundle up to go outside, building snowmen, making snow angels, and having snowball fights. I loved visiting Temple Square to see the Christmas lights and listen to the Mormon Tabernacle Choir practice singing. My sister and I got the chicken pox one winter. We were pretty young as the only thing I remember is her running out into the snow almost naked and laying down in it because it relieved some of the itching.
Springtime was full of fragrances. The apricot and apple trees bloomed in pinks and whites looking very much like 'popcorn popping on the apricot tree.' The honeysuckle growing up the side of my grandparents house smelled extremely sweet. I would pick off the blooms and suck the nectar out of it.
Summers were full of listening for the ice cream truck, Pioneer Day parades, playing with the water hose, watching fireworks, doing sparklers, and picnics. Occasionally we'd go up Mill Creek Canyon to play in the water and have campfires.
My favorite was autumn. The mountains would burst with glorious colors! We'd travel back up the canyon to see the sights. I loved helping my dad rake leaves. Back then we could pile the leaves in the gutters and set fire to them. We'd always put potatoes at the bottom of the pile to cook while the leaves burned. A little reward for all our work. Mmmm…did they ever taste good!
© 2007-2010 Chocolate on my Cranium, LLC all rights reserved