The other day, as we were sitting around the table eating lunch, the topic of conversation turned to "Remember when…"
Does your family do that?
The older girls were laughing at the fun memories of having a fort, pretending to do CPR on a block of wood, finding glass bottles in the antique cars at our old place, being afraid of the neighbors' dogs, etc.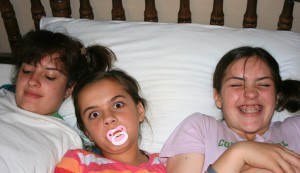 The three oldest recreating a photograph from 10 years ago.
Inevitably the stories turned to those where someone did something embarrassing. We hooted and howled as story after story was told. Of course we can laugh about it now. But then? Well, some of them we could, some of them we couldn't.
I also realized my children provide much of my embarrassing episodes, usually through no fault of their own because of their age or, haha, sheer numbers.
I cannot count how many times I've been asked "Are they ALL yours?" or "Do you even have tv out there on the farm?" or "Did you even need a man to produce those girls? It's like you took a cookie cutter and stamped them all out." Most said in front of an audience so there is much laughter by others, leaving my younger children to ask, "What do they mean 'do you need a man' and 'do you have a tv'?" I can't say I have handled all those with grace. Okay, so maybe I might have be downright rude back. But only once or twice. 😀
The most embarrassing episode, though, involves Semisweet who happened to be 2 at the time. I was walking into the local grocery store with her in tow when we met an acquaintance who was coming out. His wife had just had a baby a few days before so we stopped to chat about how she was doing. As the conversation progressed I noticed Semisweet kept tugging at the gentleman's pant leg. "Scuse, me. Scuse me!" Finally, when the conversation hit a lull, he looked down at her and asked, "Yes?" To which she pointed right at his belly and in a loud clear voice exclaimed, "You fat!"
Oh the horror! I'm sure if a Mexican can turn a shade of red that would have been a time it became evident.
I didn't have any idea what to say. I tried to apologize but was flat out speechless. Her outburst was so unexpected and so, so . . . EMBARRASSING!
Thankfully, my friend was quicker on his feet than I was. He looked right back at Semisweet, smiled at her and answered, "Honey, you are right!" We bid farewell and I quickly headed into the store still mortified by my daughter's comments. All turned out well. We met his parents in the lobby at church the following Sunday. They laughingly told us about D recounting the story for them. He held no hard feelings. At All. Whew!
So, please, tell me I am not the only one whose children say embarrassing things. Do you have any good stories to share?
p.s. A good come back for the tv comment mentioned above is "Of course we do, but what's more fun?" Gets them every time. ☺
© 2007-2010 Chocolate on my Cranium, LLC all rights reserved