I do like other foods besides chocolate. Honest!
1. French Fries, preferably from Wendy's. They're even better dipped in a chocolate Frosty!
2. Baked Potatoes – plain and unadulterated with a dollop of butter and some salt and pepper.
3. Mashed Potatoes rich with sour cream and butter.
5. Homemade Country Hashbrowns (the kind that are diced and fried)
6. Potato Pancakes
7. Potatoes Au Gratin
8. Funeral Potatoes
9. Potato Soup
10. Broccoli and Spinach Calzones
I was never one to play with dolls as a child. I played with potatoes instead. Seriously. I would carry them around cradling them as if they were dolls. One of my favorite toys was Mr. Potato Head.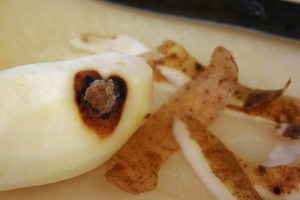 And the humble potato, it loves me back. Just ask my hips.
© 2007-2010 Chocolate on my Cranium, LLC all rights reserved