Sorry this is posting so late today. I meant to have it done last night but ran out of time. Woke up this morning to a blizzard and while I was studying my scriptures before the rest of the house got up the power went out. I finished studying by lantern light which was fun, but the power stayed out until noonish and other more important things were beckoning my attention.
To this day I'm not sure what made my parents decide to homeschool my siblings and I. All I really know is after 8th grade I was looking forward to starting high school, being in the band, on the drill team and various other extra curricular activities. Sometime in the summer my parents informed us we wouldn't be going back to school.
I think this missionary had a little something to do with it.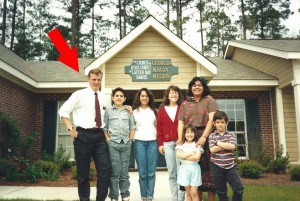 Can you tell who that is? Yup. Mr. Ferrero Rocher served his mission for our church in Georgia. That's how we first met. Our branch was his first area of service. His family homeschooled, my mother wrote to his mother to find out more. I do know my mom wasn't too keen on the idea of homeschooling, especially at first, after all she had been a public school teacher for so many years!
But regardless, my parents did keep us home. I sulked and cried trying to make them see what a terrible choice it was. That lasted for about 6 months. Then I decided to give it a try. And you know what? I LOVED it! I could complete courses at my own pace, I still played sports through church, and I had more time to read. 😀 I finished high school in 1 1/2 years (technically two if you count the 6 months of sulking around). Took the ACT once, applied to BYU and Ricks College (now BYU-Idaho), was accepted to both and had a major decision to make. Which one do I attend? BYU was a university, only an hour away from both sets of grandparents and uncles and aunts so if anything were to happen they could be there in a jiffy. Ricks was smaller (a plus in my book), but only a two year college, and four hours away from extended family. All logical reasoning pointed to my going to BYU but for some reason I felt I needed to go to Ricks, which created more work for me. Ricks made me write an essay explaining why I wanted to attend there and even after I was accepted and had a certified high school diploma through the long distance study programs I used, they required me to take the GED. Even the administrator admitted it was stupid but I did it anyway.
New dilemma for my parents. Who did they know was going to Ricks that could keep an eye on me? Oh, yes, Elder W was there. So they called him to be my 'babysitter.' That's how I thought of it anyway. There'll be more about that in another post sometime.
My mother and my aunt Chacha took me to Ricks to settle in to my apartment and meet my roommates. I think my mom about had a heart attack when she found out 4 of my 5 roommates were Ricks College cheer leaders. So much for the "Since you are only 15 there is no need to hang around boys or have them in your apartment" lecture! Good thing they were all good girls. Mostly.
Here's the crew.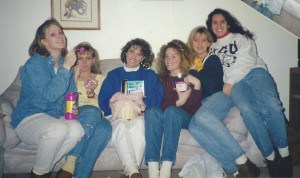 Starting from the left: Allison and Melissa were best friends from Rigby, ID. Melissa's dad gave this wonderful talk from April conference. Amberly was an EFY counselor. Paige was my room-roommate. Her brother also served in Georgia in our branch. And Jessica who knew my cousins in Centerville, UT. Life was never dull. 😀
To say I enjoyed college would be an understatement. I thrived in that learning environment! I am so thankful for the advice of my parents to take at least one class just for fun each semester. I use what I learned in those classes the most now. Sewing, embroidery, cooking, child development and even a homemaking class (that's what it was called!) that covered the basics of cooking, budgeting, cleaning – everything one needs to run a home. I majored in Crop & Soil Science in the Agronomy department. It was the first stepping stone to majoring in some type of biology or earth science degree. I wasn't sure at this point what I wanted to do.
Most people did not know I was 15 so there wasn't any added attention because of it. Of course my roommates knew and so did all of my professors. In the middle of the fall semester the college newspaper, The Scroll, printed statistics about the students saying there was a 15 year old on campus but didn't mention my name. You can read a humorous account here about that. Then somewhere in the beginning of the winter semester The Scroll ran an article about four or five younger college students and the paths we took to get where we were. After that, the cat was truly out of the bag, but thankfully not much changed.
© 2007-2010 Chocolate on my Cranium, LLC all rights reserved