I remember my 13th birthday very well. My Tia Chacha was visiting from Utah. She took me shopping for clothes

At The Gap.

I'd never even set foot in that store before – knowing the clothes were expensive. I couldn't believe she was going to spend all that money on me. Up to this point of my life my wardrobe consisted of mostly second hand clothes that I shared with my sister. Chacha convinced my mom that now I was a teenager I needed to have my own set of clothes – new clothes. I was so excited! I chose a few things to try on and while I was doing that Chacha kept adding to the pile. She taught me to buy a few good staple pieces that could be mixed and matched to create different outfits and looks.

I ended up with two pairs of blue jeans, one pair of olive green colored jeans (this was 1990), white jeans,

khaki pants,

an olive green jean jacket,

a dark red floral blouse, a green and black checkered blouse,

a blue paisley blouse, a mustard colored sweater and a couple of t-shirts. Because I stopped growing at thirteen those clothes lasted for years and years.

In fact, up until about five years ago I still wore a couple of the blouses. I have the red floral blouse in my closet for nostalgia's sake.

And that jean jacket? Good as new.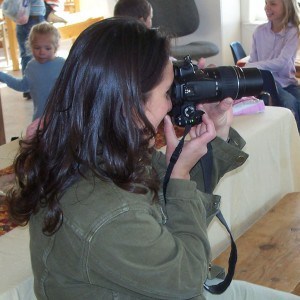 at Thanksgiving 2 years ago
I wear it every fall. And every fall someone swoons over it and asks where I got it. Makes for a good story to tell them I got it for my 13th birthday!
Another lesson I learned – it pays to buy to the good stuff and not waste money on the cheap stuff.
Remembering this incident I took my own two oldest teenage daughters shopping for their own set of new clothes last fall. We had a blast! And now that they have their basics they have been adding here and there, mixing and matching throughout the year, using the lessons passed on from my Tia Chacha.
♦♦♦♦♦♦♦♦♦♦♦♦♦♦♦♦♦♦♦♦♦♦♦♦♦♦♦♦♦♦♦♦♦♦♦
I've joined a couple of swaps! One is an ornament swap hosted by Carrie from All That is Sweet in Life. Sorry that one's closed now to new participants.
But the 12 Days of Christmas Swap hosted by Sami at Symmetry in Motion is still open if you'd like to participate! Better hurry though, the last day for sign ups is Tuesday, November 23rd at NOON (central time).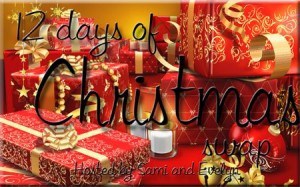 © 2007-2010 Chocolate on my Cranium, LLC all rights reserved