Other memories from Miami before I move on to Georgia.
○ Racing my dad with my siblings around the perimeter of the house. He bet that if we beat him we'd each get some money. My little brother barely beat him. We were so excited!
○ Drive-thru convenience stores. Similar to fast food stores, you could drive up and buy milk, bread, eggs, and a few other things without getting out of your car.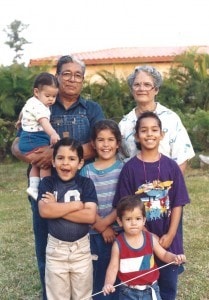 My siblings and I with my grandparents
○ Guelito and Guelita, my mom's parents, living with us for about a year. Guelito had chickens and we loved going with him to check for eggs in the mornings. I loved cooking with Guelita, rolling out tortillas, and talking with her. Guelito always had to watch his novellas (Mexican soap operas) in the afternoons. He was losing his eyesight so he sat about three feet away from the TV.
○ Key Lime Pie
○ The Cuban Nursery leader who decided to give all the nursery kids the same bowl haircut. Oh yes she did! Even those who had long hair – chopped.
○ Being babysat by Nathan and Myra Smith – brother and sister. They were probably the coolest sitters around. We stayed at their house when my mom had my brother. We were served pancakes with ketchup instead of syrup for breakfast. Why? "We eat everything with ketchup because our mom's name is Kay." I also remember sitting in the backseat when Myra was driving a stick shift. It was rather jerky. ☺ Her dad kept saying "Myra! Release the clutch slowly!"
○ Visiting Vizcaya on several field trips and watching Shakespearean plays.
○ Going to Disney World. I LOVED Epcot Center. My favorite 'country' was Morocco because of the spicy, musky smells. I bought a woven blanket and refused to wash it for years because I knew if I did the smell of Morocco would be gone.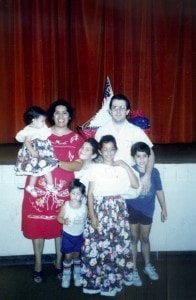 At a ward activity. I think it was a talent show.
○ Merrie Miss class (the 11 year old girl class in church) with Sister Holly Murphy as my teacher.
○ Taking my dad to the metro early in the morning so he could catch the train to Jackson Memorial Hospital. We finally bought a car for him that was a dark navy blue and people thought he was an undercover cop when we drove down the freeway. They always slowed down and we'd speed on by.
○ Going to the BYU vs UM (University of Miami) football game wearing UofU shirts. We sat in the UM section while the other members of our ward sat in the BYU section. It was so much fun!
○ My mom and the neighbor across the street backing out of their driveways —- at the same time. CRUNCH!
○ Roller skating on our screened in porch. The floor was a pebble type of rock flooring. I fell and a HUGE chunk of skin and stuff came off of my knee. It was so deep there was whitish fluid coming out with the blood. My mom's friend Trudy Russell happened to be there so she stayed with the other kids while my mom drove me to the hospital. My dad met us there at the emergency room. The cut was too wide for stitches. I have a nice scar that covers my whole left knee cap.
○ Being co-captain of the patrol at Blue Lakes Elementary. The patrol was in charge of raising and lowering the flag each day and leading the Pledge of Allegiance. We were also student crossing guards. We wore bright orange belts and badges. The captains made the assignments for the week, and were typically the last students to leave school grounds.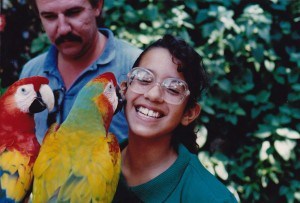 age 10 at Parrot Jungle. Check out my Chiclets and thick glasses!
○ Sewing my first pair of pants made from a bright parrot fabric. We enjoyed visiting Parrot Jungle and I wanted pants with parrots all over them. The first time I wore them it was field day at school. They ripped in the crotch when I played Twister. At least I was wearing my swimsuit underneath!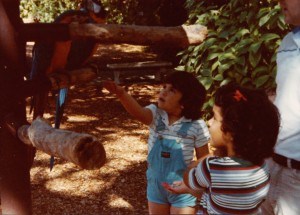 The first time visiting Parrot Jungle.I'm the one with the red barrette.
© 2007-2010 Chocolate on my Cranium, LLC all rights reserved