Nicknames.
They can be good.
They can be bad.
My husband is notorious for using nicknames in his family. I think just about every person has a nickname that was chosen by him. They just fit so well that others pick them up and, voila! someone has a new nickname. Nicknames are a must and constantly evolving. One leads to another which leads to another and so on until there is THE ONE that just sticks. For example Brownie's nickname is Bobby. It started off being Billy back when we had four girls and Mr. FR decided to give them all "boy" names. She was Billy for a while, then Billy Bob, then Bobby. Bobby has stuck for over four years. I wish I could say all the nicknames are so easy and 'nice' but, alas, they are not. "Toad" and "Bugsy McGruder" and "Chicken" and "Droolia" are some nicknames for the other girls but I won't tell you which lest they get embarrassed.
Growing up I also had my share of nicknames. Sadly, they weren't very nice ones. My brother liked to call me Monster Rat when he was mad at me. All he had to do was switch the t and s in my name Montserrat to get Monster Rat.
We moved to Georgia, from Miami, the summer before I started 7th grade. One thing you need to know about middle Georgia is pretty much all they have seen people wise are black or white. The kids at school didn't know what to think when I showed up half way in between. So they called me Oreo. They just assumed I was mixed – that one parent was black and one was white. It didn't matter to them if I tried to tell them otherwise. The color of my skin told them I was an Oreo.
Here are a couple of pictures to give you an idea of where I fell on the skin tone spectrum at school.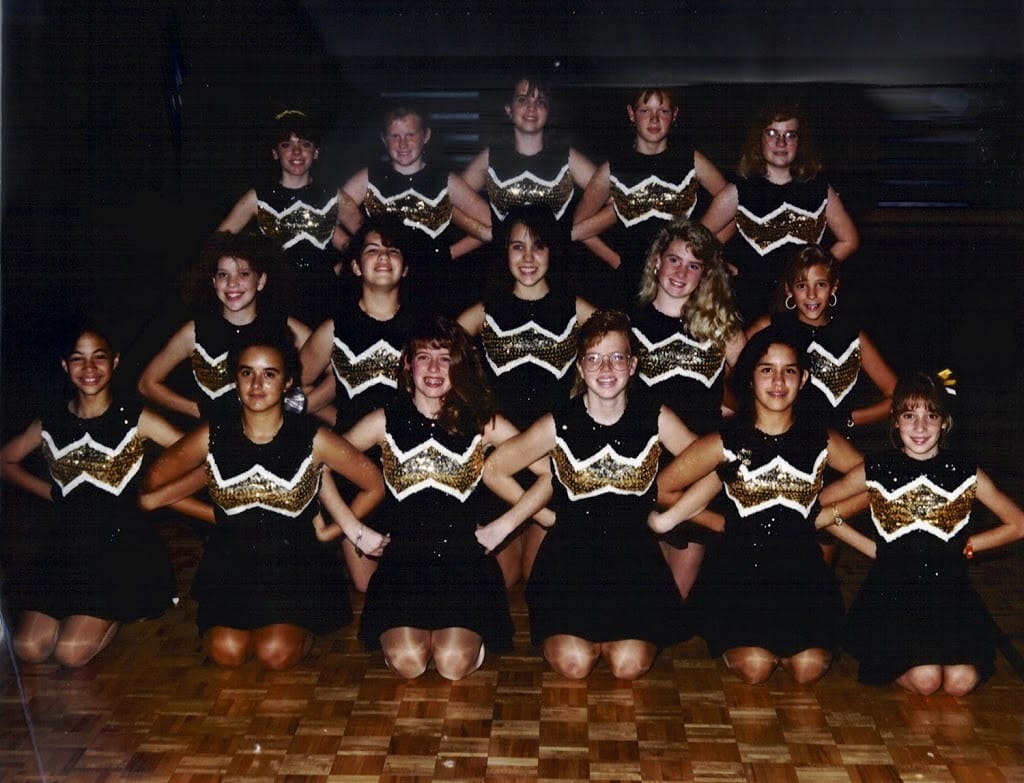 I'm 2nd from the right on the first row.
It's also kind of interesting to see that the drill team was made up of mostly white girls, while the basketball team was mostly black.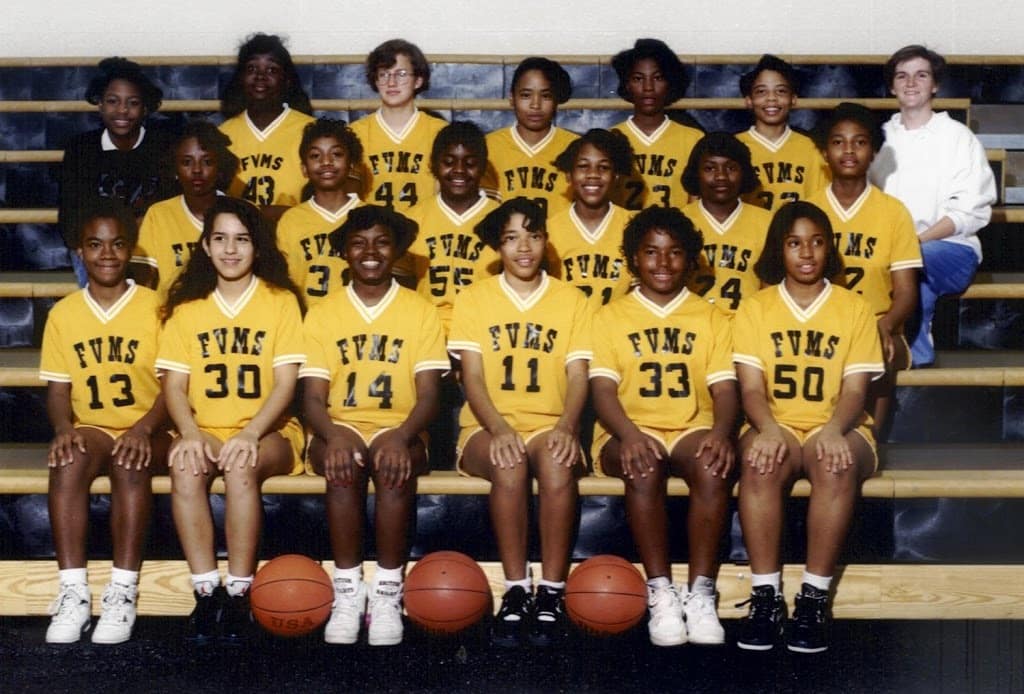 I'm 2nd from the left on the front row
So you can kind of see how the kids were sort of confused about my cultural background.
While on the basketball team each player had a nickname. Mine became Motts (for Motts applesauce) because most of the girls on the team couldn't even begin to pronounce my name correctly. Moosie and Mousie just didn't cut it – at least in my book – so Motts it was. My sister still calls me this! Incidentally, my favorite sport was basketball. I love, love, loved playing it. Even though I'm only 5'2 and and was easily blocked when I tried to do a lay-up. I made up for it with my dribbling. And stealing. I could steal a ball faster than you could say boo.
About halfway through the school year, the school put on a career fair. My dad came to talk about being a doctor. My mom came with him and the kids finally realized what I had been telling them all along. I was half Mexican.
The next day after school I told my mom. "Well, they've stopped calling me Oreo! Now they've started calling me spic." She was NOT happy to hear that! Spic didn't last too long, only about a week or so. Then in the spring we put on a play or talent show of sorts. My friend Brandie and I were the clean up crew. For that week we were known as **Spic and Span. Which I actually thought was a very clever play on words. ☺
**For my non U.S.A readers Spic and Span is an all purpose household cleaner.
I'd like to know what some of your nicknames were growing up and the stories behind them. Pleas share in the comments!
© 2007-2010 Chocolate on my Cranium, LLC all rights reserved