Christmas this year was beautiful, wonderful, and definitely memorable. Our Christmas celebrations began on Christmas Eve with the children opening their traditional new pjs.
Little Angels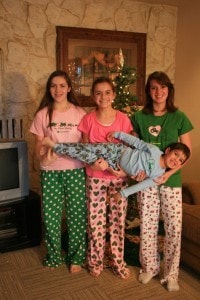 John Deere pjs perfect for the hay raking crew and Special Dark.
We watched the original version of Miracle on 34th Street while eating some delicious appetizers. After the movie I read some Christmas books to the younger kids and every one went to bed. Mr. Ferrero Rocher and I set out the gifts and stuffed the stockings. I should have taken a picture of the tree. It was simple and beautiful. The girls decorated it with dried orange slices and cinnamon stick bundles. All of our gifts were wrapped in brown paper and tied with assigned colors of twine.
Christmas morning we all headed out at 7am (another tradition). The kids were giddy with excitement at giving Mr. Ferrero Rocher his gift first thing. Remember back at the beginning of October I told you about our exciting Christmas project to memorize The Living Christ? We did it! With a few days to spare to really get it down. Mr. FR said, "Okay Hershey gets to start opening one of her gifts first." (Another tradition, we open gifts one at a time going around from youngest to oldest) We all said, "No, you get your gift first!" I handed him a set of books to open, The Messiah Series by Elder Bruce R. McConkie, which he was very excited to receive. Then I said, "We have something even better."
And we started reciting The Living Christ.
I wish I can express to you the feeling that immediately entered our home. It was beautiful, tender, sacred. It brought tears to Mr. Ferrero Rocher's eyes as he listened to us recite. He couldn't believe we had worked for three months on it and he didn't have a clue or inkling that anything was going on. The children were that good about really wanting to surprise him. It was the perfect start to our Christmas Day.
And I'm pretty sure it will now be a tradition to begin each Christmas morning with a recitation of The Living Christ.
(next post will feature all the handmade gifts the children gave to one another)
© 2007-2010 Chocolate on my Cranium, LLC all rights reserved