One.
One little boy amidst seven girls.
On Friday I drove most of the kids in to town for a Primary activity day. My son refused to get out of the van. "I just want to go with you, Mama." I didn't argue. We dropped off his oldest sister at the high school to take a proctored final exam. Then we went to the post office, my son and I. He held my hand while we waited in line. And just talked. He helped me carry out packages. At the grocery store he pushed the cart and loaded it with milk, canned tomatoes, bags of apples and oranges. And just talked. As we drove back to the high school and then the church to pick up his sisters we talked some more.
My son. He just wanted some one-on-one time with Mom. He got it. And I got a HUGE hug when we returned home. And a "Thanks, Mama. I had fun with you."
Two.
There are only two left yet to succumb to the stomach virus that first hit our house six weeks ago – Semisweet and I. Mothers just aren't allowed to get sick are they? You would think after the many exposures I've had caring for all the littles I would have gotten it by now. Semisweet has my constitution. If one of us happens to get sick (that is rare) then usually the other will get it too.
Three
Three weeks until the New Year. And three weeks until I will post again. I want to spend this time enjoying the season with my family, pointing my focus on things that matter most.
Four
We had four missionaries for dinner Saturday night. They all arrived safely, thank goodness! The last time we had missionaries over to eat this happened.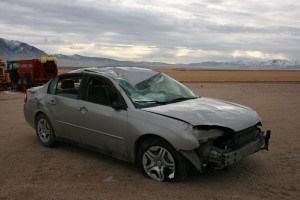 Driving on a gravel road can be dangerous for those who aren't accustomed to it. We feed the four homemade ravioli, with a homemade tomato sauce and homemade alfredo sauce. Delicious!
Five
I stayed home from church with the five youngest. One was sick and I didn't feel comfortable sending the rest without Mom there to help them stay reverent as Dad sits on the stand and was conducting church. We had our own lesson, sang songs, and wrote letters to grandparents. It was lovely.
Six(teen)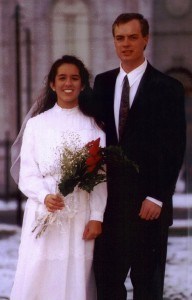 Mr. Ferrero Rocher and I will celebrate sixteen years of marriage on the 20th. They have been wonderful years full of much laughter, fun, a few heartaches, and lots of growing together. How I love him!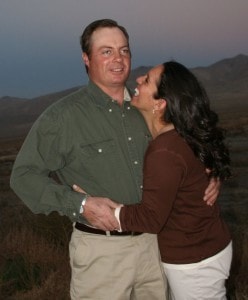 Now to leave you with a Christmas message. I hope you have a Christ filled Christmas!
© 2007-2010 Chocolate on my Cranium, LLC all rights reserved