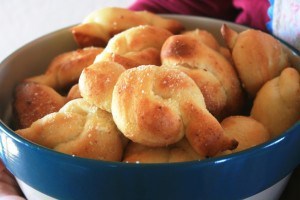 We ate at a local pizzeria this past Wednesday to celebrate Semisweet's 14th birthday. These garlic parmesan knots were ordered as an appetizer. They were so good we decided to try and replicate them here at home. I think I like our version much better!
Garlic Parmesan Knots
1/2 batch buttermilk roll dough
1 cup grated parmesan cheese
1 cup melted butter
3 cloves garlic, minced
1/2 cup grated parmesan cheese to sprinkle in top
Mix up 1/2 batch of buttermilk roll dough as directed except for add the 1 cup parmesan cheese with the flour to incorporate it into the dough. Let rise as directed in the roll recipe.
While dough is rising melt the butter in a small saucepan. Add the minced garlic to the butter, let simmer for about 1 minute. Take off heat.
When dough is finished rising, punch it down. Roll out into a thin rectangle on a floured surface. Using a pizza cutter cut the dough into strips about 1/2 in x 6 inches. Tie each strip into a knot and place on a greased baking sheet about 2 inches apart. Brush each knot liberally with the garlic butter. Let rise 15 minutes. Bake in a 350 oven for 12-15 minutes or until golden brown. Brush with more garlic butter while hot and sprinkle 1/2 cup parmesan cheese over the tops. Makes about 5 dozen knots.
© 2007-2011 Chocolate on my Cranium, LLC all rights reserved