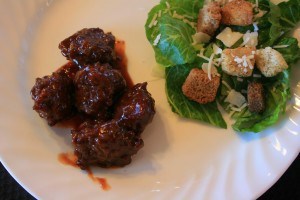 This is one of the easiest, tastiest recipes we've ever tried. Don't be put off by the ingredients for the sauce. They really do go well together!
Tangy Meatballs
Meatballs:
1 lb. ground beef
1 lb. sausage
1 egg
1/2 cup bread crumbs (for added flavor we use crushed croutons)
Combine meat, egg, and bread crumbs. Form into 1 1/2 inch balls. Place in an oven proof pan. Bake at 400 for 15 minutes. We actually place ours on a metal cooling rack that fits in our 15×17 inch pan so the meatballs aren't dripping in grease.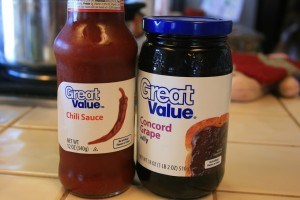 Sauce:
1 12 oz.bottle chili sauce
1 18 oz jar grape jelly
Empty both bottles into a saucepan. Heat over medium-low heat until jelly is dissolved. Add cooked meatballs. Simmer in sauce for 10 minutes. Serves 8-10.
© 2007-2010 Chocolate on my Cranium, LLC all rights reserved